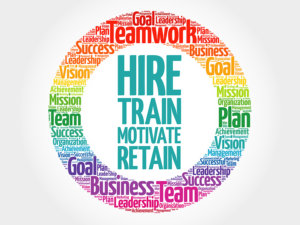 A human resource system such as Sage HRMS Cyber Train can help you reduce high employee turnover rates. High turnover is a problem faced by many companies and it's one that pays to address, and fast. According to the Society of Human Resources Management, it takes the equivalent of six to nine months of an employee's salary to replace them.
Software such as Sage HRMS Cyber Train offers you a reliable method to help new employees learn the ropes fast. By helping them onboard quickly and confidently, you'll reduce the likelihood that they will be dissatisfied and leave your company
The Main Reasons Why Employees Leave – and How You Can Fix It
People leave their jobs for many reasons. The bad news is that these reasons are quite common. The good news is that they can be fixed if you know what to look for in the workplace. If you look through this list and find yourself nodding, then you probably recognize the reasons why employee turnover rates are rising at your company.
The job wasn't what the employee expected: Often people leave quickly because the actual job did not meet their expectations. They may have misunderstood the work, the company, the culture, or the offer. Or, they may have over- or underestimated their own interest or abilities. Regardless, there's a mismatch between the job and what the employee expected and they're unhappy enough to leave.
Work-life balance was nonexistent: When a job intrudes on work, holidays, weekends, and family time or when employees find themselves exhausted from spending more time at work than at home, they may leave because the work-life balance is nonexistent. There's little regard for their personal time or space or the expectation is that they will put work first.
No feedback, little feedback, or only negative feedback If workers never hear that they are valued, they'll seek value elsewhere with another employee. Similarly, if all your managers do is complain about their staff or criticize workers without any praise, people tune them out and eventually leave.
Poor management: Rude managers, critical managers, or lax managers are often to blame for staff turnover rates. Managers who know of problems yet do not address them, managers who show favoritism, and managers who give unclear directions are also cited as reasons for turnover.
Wages remained stagnant: Companies who promise raises and bonuses, then go back on their word, will not retain employees. Wage freezes and irregular salary reviews are another reason people leave jobs.
Fixing the Problem of High Turnover with Sage HRMS
As we said before, the good news is that you can fix many of the problems leading to high turnover. Review the information obtained from Sage HRMS and the reasons frequently cited by employees for leaving a job. Then, take action to fix things.
Manage expectations about the job: Put job offers in writing and document job descriptions prior to hiring someone to ensure a shared understanding of the job.  Make sure your job descriptions are up to date and hiring managers and anyone interviewing candidates know they should be open, honest, and transparent about the job, company, and working conditions. Expectations are set through honesty and facts given to candidates during the interview process.
Support good work-life balance: Watch out for asking too much of your employees. Respect their free time and time away from the office. Mobile devices and instant messaging makes it tempting to ask questions at all hours, but at some point there must be respect for personal boundaries around an employee's time. You can also offer flextime for employees caring for dependents so they never have to apologize for driving Mom to the doctor or caring for a little one home sick from school. Taking the stress off people's lives makes them happier about their workplace.
Offer many feedback opportunities: Only offering negative feedback is a sure road to employee dissatisfaction. Train your managers and staff to give and receive feedback. Make sure that criticism is always tempered with praise. Regular reviews, employee training, and other methods of employee motivation are important and a part of giving and receiving quality feedback to improve job satisfaction and performance.
Provide training for managers: Managers need training in management skills. They need to learn how to delegate fairly, provide clear directions, and manage workloads without favoritism. Rude employees must be dealt with immediately to prevent workplace issues from escalating.
Award raises and reviews on schedule: Rather than freeze wages, try to at least give some raise so that people don't have a financial incentive to go elsewhere. Schedule regular performance and salary review periods and make sure that salaries are both commensurate with experience and fair for the jobs and levels of employees.
Sage HRMS Cyber Train
Sage HRMS Cyber Train offers your human resources department an effective tool for employee training and development. The software integrates easily with other Sage products, making it a great add-on if you are already using Sage software.
Sage HRMS Cyber Train helps you manage and track all employee training requirements, enrollments, and certifications. You can use it to guide employees to fulfilling professional development opportunities or to launch company-wide training initiatives. Components for students and instructors enable everyone to self-manage their participation in the system, which takes a great deal of the administrative burden off your human resource department.
Employees leave new jobs for many reasons.  Poor training or no training opportunities are at the root of many reasons why people leave and seek another job. By addressing the training needs first within your company and monitoring training and professional development, you can improve manager's skills, enhance job satisfaction, and reduce the risk of high turnover.
Emerald TC
Emerald TC offers a team of certified consultants, CPAs, and master developers to help you build your business, choose the right software, and grow your revenues. Sage HRMS, Sage ERP, Acumatica ERP and other products are available to improve productivity and enhance your business. Contact Emerald TC today for more information. 678-456-6919.