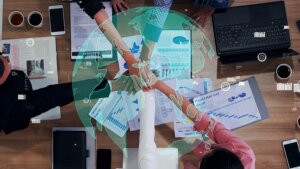 There's no question cloud ERP software can help your company grow. We love top 10 lists, whether it's the top 10 business software for productivity or the top 10 ways an ERP system can save your time, so we've made this post into a "top 10 ways cloud ERP software helps your company grow."
Can you envision your company's future with any of the ways cloud ERP software supports growth?
The Top 10 Ways Cloud ERP Software Supports Company Growth
Grows with your business: Legacy ERP systems can be costly to maintain over time, especially when the system itself is no longer supported by the manufacturer. Hiring custom programmers, ensuring that security is up to date, and making legacy systems work with newer applications can add up to considerable costs. New cloud ERP software scales easily and quickly, growing as your company grows, and updates from the software provider ensure it remains up to date.
Reduces risk: If legacy software is no longer supported by its manufacturer, there's a good chance that its security is outdated, too, and that could be a problem waiting to happen. New cloud ERP software offers the latest security updates to ensure your data remains as safe as it can.
Minimize manual data entry: ERP systems reduce manual data entry in areas of accounting and inventory management. By reducing manual entry, you'll reduce the mistakes that naturally occur with it. Data will be accurate.
Consolidate systems: Using an ERP means consolidating multiple functions that may have previously been handled by separate systems into one. The result is one central point of data access and retrieval.
Real-time data: Cloud ERP software offers real-time data access. This means that when you review the data in a cloud system, it's updated and refreshed quickly, so that you can make better decisions. There's no waiting for batch uploads, such as many legacy ERP systems require, to update the system.
Better compliance: If you work in an industry with strict compliance regulations (OSHA, HIPAA, MSHA) you'll find that cloud ERP helps you track compliance items much more easily. You'll be able to scale and grow your business in industries that work under these rules with easier compliance features.
Enhanced customer service: With real-time data and easier data retrieval comes the ability to answer customer questions quickly and with improved accuracy. There's a big difference between telling a customer their order will ship "this week" and saying they will receive it on Friday by UPS. With cloud ERP software, your service team will have the information readily available to improve customer service, which in turn enhances repeat business and revenue growth.
Flexible telecommuting: Unlike on-site software, which requires people to log in from within the workplace, cloud ERP offers full telecommuting access. For those industries with personnel who need to work on the road or from home, this is a great benefit since it means uninterrupted access to the workflow and data needed.
Time-saving automation: Many time-intensive functions can be automated with cloud ERP systems. This includes AP, payroll processing, routing material for approval, and invoicing customers. All of this adds up to significant time saving, which frees up workers to function on tasks that support long-term company growth.
Add on specialized functions: A good cloud ERP system integrates with other platforms or software packages, enabling a basic ERP to expand into a multi-functioning resource: warehouse management systems, fixed asset management, human resources management … the list goes on.
Take Your ERP to the Next Level
The right ERP system can truly support companywide growth in extraordinary ways. One way to get a glimpse of how this plays out in actual companies is to review our many success stories, which showcase ways in which ERP has transformed various businesses in multiple industries.
For more examples of how cloud ERP software can help companies grow, download this eBook from Acumatica.
Emerald TC
Emerald TC provides software and consulting for manufacturing companies. Contact us or call 678-456-6919 for more information.