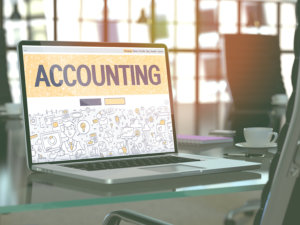 An accounting ERP program can help you make sense of the vast amounts of data generated by today's businesses. Manufacturing, warehouse, distribution, e-commerce, and many other companies benefit from collecting and using data. Without the right program to use that data, you run the risk of amassing what amounts to a collection rather than useful business information. Data alone is insufficient. Data analysis brings it to the last, helpful step.
What keeps you from getting the most from your data? Below you'll find a list of the five most common roadblocks to data usage. If any of these look familiar, you're not alone. The solution lies in a good accounting ERP program such as Sage 100cloud.
Five Common Data Challenges Solved by Accounting ERP
The following five data challenges are widespread throughout many industries. You may see variations of them in your industry, but the chances are good that one or more are stopping you from getting the most from your data.
#1: Too much raw data.
Sometimes too much of a good thing is overwhelming. That's what can happen when you amass copious amounts of raw data in spreadsheets, stand-alone systems, and historical databases. The solution: Use your accounting ERP to collect and synthesize the disparate data elements within your company. Add business intelligence (BI) systems to a base package, and you've got a powerful engine to use that data wisely.
#2: Complexities in the  ERP accounting system.
Integrating and consolidating accounting data can be difficult when you conduct business across multiple tax jurisdictions, currencies, and other issues that add layers of complexity to the accounting system. Accounting ERP can help with this by streamlining data collection and automating processes such as currency conversion to make reporting easier.
#3: Adhering to reporting deadlines.
There are many reporting deadlines that the average business must remember. Annual report filings, social security taxes, W2 forms, Medicare tax reporting, state tax reporting…the list goes on. Add to that sales and usage tax, VAT tax, and more, and you've got a lengthy list of deadlines to keep in mind. An accounting ERP program can be set with flags or reminders that go out automatically to remind you when deadlines loom. This helps your company adhere to reporting deadlines, even if you need to track deadlines across federal, state, and international systems.
#4: Finding and correcting data errors.
For those businesses still using spreadsheets, you know the painful reality that an error in one cell in a large spreadsheet can cause hours of headaches. Finding and correct the mistake can be a time-consuming process. Fortunately, accounting ERP solves this by automating much of the data collection in your company. Data flows from other systems such as the warehouse system, the e-commerce portal, ordering systems, CRM, and more into one centralized system, ensuring that few errors occur.
#5: Keeping data secure.
The average cost to businesses from a data breach is $148 per record compromised, according to Security Today. This represents a 4.8% increase over the previous year. If you think your business is immune, think again. Thieves tend to target small to mid-sized companies because they know they have few resources to fight back.
Just how secure are your current spreadsheets? Databases? Computers? Probably not as secure as you think. If they are on computers connected to the internet in some way, they can be compromised regardless of how careful you believe you are with your company's data.
Cloud-based Sage 100cloud and accounting ERP systems offer exceptional security for your data. Cloud systems use state of the art security, and cloud hosts are responsible for updating and maintaining security. Many use redundant systems or back your data up to multiple systems so that if there's a failure in one area, it doesn't take the whole system down. All of this adds up to enhanced security for your data over and above what most companies can provide on their own.
Accounting ERP: Ready for the Next Step?
Are you ready for accounting ERP? What will your next step be? Contact Emerald TC to learn more about the solutions that best fit your business. Please contact us or call 678.456.6919.