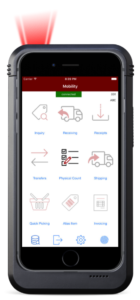 Sage Mobility by Scanco empowers everyone in your organization to do their best. Field Sales? They've got updated information on customer accounts, inventory, and open tickets so that they can do their jobs better. Warehouse managers? They've got the latest counts, order information, restocking needs, and low stock counts. Manufacturing plant managers? They know what's available, what's needed, and who to talk to, all with the ease of using their smartphones.
Does it get any better than this?
Sage Mobility by Scanco, available through Emerald TC, offers a vast array of software that supports growth, change, and improved systems throughout any manufacturing operation. Whether you're made to order or made to stock, mass customized products or small batch orders, Sage has you covered.
Six Reasons to Love Sage Mobility by Scanco
Well, yes, there are more than six reasons to love Sage Mobility by Scanco, but these are the ones we think appeal most to manufacturers. See if you agree:
Portable: Sage Mobility by Scanco is cloud-based, which means it can be accessed through any internet-enabled device. Use your smartphone, tablet, or computer; if you've got a browser, you've got Sage Mobility by Scanco. Its portability means it travels with you to the warehouse, manufacturing plants, or customer job sites.
Easy to use: Because the technology mimics so many other conventional software systems we use every day, workers quickly adapt to Sage Mobility by Scanco. It's also easier to complete tasks since everything is in one system, making compliance with utilizing the software higher than with other systems.
Real-time information: No more waiting for reports or calling around for information. Everything is available in the system and updated almost instantly through the cloud.
Monitoring: Mobile devices enable precision monitoring of production, distribution, and inventory. Information obtained from monitoring these systems allows you to identify gaps, problems, and places where you can improve efficiency.
Compatible: Sage Mobility by Scanco works with Sage 100cloud and Sage 100, both excellent enterprise resource planning (ERP) packages for manufacturers.
Affordable: If you thought adding mobility to supply chain management was expensive, think again. Sage Mobility by Scanco may be more affordable than you think. It's even more affordable when you consider the many ways in which it improves efficiency and saves time.
Toss the Clipboards and Carbon Copies
Everyone talks about the "paperless office," but few realize how many still rely on paper-based forms to do their jobs. When you've automated systems and integrated them using cloud-based software, you'll find you no longer need paper-based systems. Field sales can toss the clipboards and carbon copies. They no longer need to manually add up deals, write it out on duplicate forms, and hand it off (or type it themselves) into the system back at the office.
Instead, enter it into an internet-enabled device, and that's it. Orders are in, everyone knows what's sold and what needs to be fulfilled, and the customer can be billed faster for the order. The faster the bill is sent, the quicker you get paid.
Better data, faster information, greater efficiency—all are possible when you combine Sage 100 or Sage 100cloud and Sage Mobility by Scanco.
If you've hesitated to add systems like Sage 100cloud and Sage Mobility by Scanco to your manufacturing business, take the next step. Call Emerald TC for a consultation. We can answer any questions you may have about what it would take to make your business fully cloud-connected and mobile.
Emerald TC
Emerald TC is a team of Sage Atlanta consultants offering Sage 100 ERP, Sage 100cloud, and other products to help small and mid-sized businesses improve their productivity and efficiency. Please contact us or call 678-456-6919.