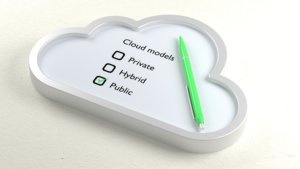 More companies embrace using a hybrid cloud approach.
Companies seeking manufacturing ERP solutions often wonder: should they choose a cloud-based approach or use a site-based service?
A new study commissioned by Sage and conducted by Forrester Consulting offers a different approach. Instead of choosing one or the other, why not embrace both with a hybrid cloud approach?
The Appeal of Hybrid Cloud Solutions
Companies in complex industries are among those adopting hybrid cloud solutions. According to the study, 68% of midmarket companies are migrating existing solutions to the cloud. Financial systems tend to be kept on-premises or partially in the cloud.
Reducing costs appears to be the driver for many companies as well as retaining tight control over their data. For example, two-thirds of the companies participating in the Forrester study believe that an on-premises or hybrid cloud model offers the best solution to contain costs.
Sage Scanco Manufacturing ERP Solutions: Cost Control With Better Functionality
Scanco, a company known for its warehouse and inventory management solutions, partnered with Sage on the new manufacturing module for Sage 100cloud. The new module, Sage Production Management, enhances Sage 100cloud for make-to-order manufacturers.
More than 60 new features are included, making Sage Production Management among the most exciting manufacturing ERP solutions to enter the market. Features include:
Real-time updates of inventory transactions and quantity on hand: As materials are issued, the system automatically feeds data through the cloud, so the entire system is updated. This creates an accurate inventory count.
Extensions: Sage Production Management enables you to add extensions as needed to build out the system to meet your needs. Added extensions enable material requirements planning, make to order, enhanced scheduling, advanced product configuration, and more.
Fully customizable: If you need a feature not readily available within the software itself, Sage Production Management can be customized. It's built on Sage's Business Object framework architecture, making it easy to tailor to meet your business requirements.
For many mid-sized manufacturers, cost containment is the key driver for many technology decisions. It can be challenging to obtain some economies of scale that their large-sized manufacturing counterparts can achieve to cut costs. Instead, they look to cost containment in other areas to boost their net profit.
Among the many manufacturing ERP solutions on the market, Sage 100cloud offers a robust suite of features for manufacturers. It can help you scale and grow without breaking the bank.
Emerald TC
For a free consultation, call Emerald TC. Emerald TC is an Atlanta-based consulting organization that offers Acumatica, Sage 100cloud, and other solutions to help small and mid-sized businesses improve their productivity and efficiency. Please contact us or call 770.377.8334.