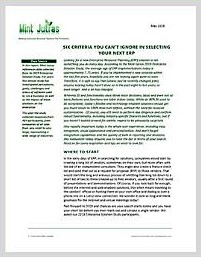 Replatforming cloud ERP software can be challenging. The term "replatforming" means changing your current software to a new system. You may wonder if you should change ERP software or continue to try to get by with your current system. After all, switching to new software can be challenging. There's a learning curve, not to mention costs, time, and effort involved in evaluating vendors, watching demonstrations, selecting software, and finally, implementation and training.
The Mint Jutras report, Six Criteria You Can't Ignore in Selecting Your Next ERP, offered by Acumatica, gives you some tips on what to look for in a new ERP solution.
Should You Update Your Cloud ERP Software?
Do you need a new cloud ERP system? The following questions can help you determine if phasing out your legacy system and switching to cloud ERP is necessary.
Is your legacy system failing more frequently? Legacy systems can be fraught with error messages and problems. If you find yourself hunting down error codes, searching online for answers in old forums, and generally frustrated, it may be time for a new ERP system.
Do you have what you need to do your work? Many companies slowly find themselves using manual processes to work with the data that they have until it becomes the new normal. If you don't have what you need to do your job quickly and easily, or if you find yourself manually manipulating data and working with spreadsheets just to run the reports that you need, it's time for an upgrade.
Is custom integration breaking your budget? Another trap that companies fall into is spending far more for custom coding and integration than the value they receive from merging disparate systems. Often, one new cloud ERP software will do what several lesser packages forced into an integration situation can do. It makes better economic and functional sense to transition to brand-new software.
Software support is discontinued. A sure sign that new ERP software is needed is when your current system's support is discontinued. This means that patches and updates will no longer be issued, nor will there be good support available to you if something breaks. It's time for a change!
Workarounds are the new normal: If you find that everyone is working around the system, rather than in the system, it's time for a change. Workarounds include the spreadsheets mentioned above, downloading information, or shadow systems set up by employees to perform functions missing in the legacy software. None of this is healthy, and a new system often solves such problems.
5 Reasons Cloud ERP Software Is a "Must" for Business
Cloud ERP software is where the industry is heading: The majority of ERP software manufacturers are switching to cloud-based systems. It's cost-effective, provides higher security and easier upgrades.
Automatic updates: Software updates do not disrupt your business when they're on the cloud. They often happen behind-the-scenes, provide better upgrades and service, and require zero effort on your part.
Profitable companies use big data and analytics: Data and analytics capacity was once reserved for large companies with deep pockets, but no more. Today, all companies benefit from using data and analytics. This includes small and mid-sized businesses, which often get more out of data because leveraging it can make a significant impact on their profitability.
ERP is more than software: ERP isn't solely an IT function or a software package. It's a business approach that encompasses every aspect of your company, from operations to finance. It means using data to drive decisions. Data is collected from the ERP software, but ERP isn't a technology initiative. It's a company-wide shift in thinking about how you do business.
Cloud systems control technology costs: Instead of paying for hardware and support to run your ERP system, you pay for access to a robust platform with many features you can use. Other packages that integrate with your basic ERP system can be added at any time without significant investment in infrastructure on your part. It's cost-effective to shift to cloud ERP systems.
Ready to Replatform? Talk to Emerald TC
If you recognize many of the signs you need a new ERP system, and you believe an upgrade would be of benefit, contact Emerald TC today. We can help you choose from among many ERP systems for the right one for your company. Acumatica, for example, offers a cloud ERP software that provides robust features right from the start and easily integrates with many popular third-party applications. Contact us or call 678-456-6919 for more information.