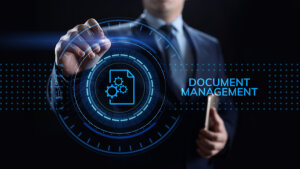 Cloud document management offers an easy way for businesses to store and share paper-based information. It's easy to use, saves paper, and offers excellent flexibility for document sharing and storage. Here are three reasons why your company needs cloud document management.
Easier Document Sharing
Using cloud document storage makes it much easier to share documents among colleagues. Consider paper documents for a moment. You must find them in the files, remove them, then physically transport them to a meeting or a co-worker's desk for review. Then, after your co-worker is finished using the document, they must be returned to the file cabinet.
What if they need to be shared with more than one person at a time? It's time consuming and wasteful to make photocopies and send them through interoffice mail—or drop them off personally—with each person.
Cloud document management, on the other hand, makes it simple to share documents. Just upload the document to the cloud and share the link to the file via email or text. There's no delay in sharing the information and no chance of losing the only copy in the office!
Saving Money and Office Space
Once you have a cloud solution in place, it's time to rethink your office layout, because you can get rid of 99% of your file cabinets. What will you do with all that space?
Additionally, you'll save money on office supplies (and the accompanying storage space) since documents will no longer need to be photocopied (paper saved), placed in labeled files (folders saved), and stored in cabinets. Photocopier use should go down, along with bills for paper and toner.
Better Security
Do you really think the flimsy metal key to the file cabinet is a great way to secure important documents? How about locking the outside door and locking the file cabinet?
What about a fire? It's hard to think about it, but a fire could devastate your office. Even "fireproof" cabinets may be subjected to water or heat damage, making documents difficult to read. How would you replace them in the event of a natural disaster?
Cloud-based document storage offers exceptional security. Cloud companies have invested thousands, if not millions, of dollars into cyber security to keep their customers' information safe. Backups are also made daily by many cloud companies to ensure that if anything does happen to one server, the information contained on it is also housed elsewhere. In the event of a localized disaster, your data is most likely secure.
So instead of photocopying documents and keeping one copy in one room and another in the file cabinet at the office, try cloud storage instead. Backups, safety plans, and several layers of security can keep documents safely stored.
Less Paper Is Also Good for the Environment
Another factor to consider is the environmental benefit of going paperless. It's not just saving trees by reducing paper waste. It's also a reduction in the chemicals used to make photocopies and printouts, and a reduction in office space required to store materials. Offices use energy for lights and heat; computers use energy, too, but cloud storage shares the burden and use across multiple companies.
Overall, cloud document storage offers many benefits and few if any drawbacks. If you are interested in exploring cloud document storage, learn more about Altec DocLink. Altec DocLink works with both Sage and Acumatica ERP to provide cloud document management that works seamlessly with your ERP system. It's a great way to move your documents to the cloud, and perhaps move in that new meeting room you've always wanted. After all, what else will you do with the space once taken up by dozens of file cabinets?
Emerald TC
Emerald TC provides software and consulting for manufacturing companies. We can help you choose the right accounting software, ERP system, payroll, or other software for your needs. Contact us or call 678-456-6919 for more information.