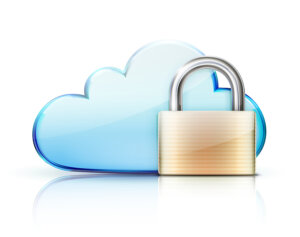 Some businesses are afraid that cloud ERP security is lacking. They may feel they have better control over their system security and critical data when their servers are on premises.
We're here to reassure you that cloud ERP security is usually quite good, if not excellent. Here are four reasons why we think cloud ERP security beats on-premises security, hands-down.
Cloud ERP Security: Better Than You Can Imagine
Even if you've investigated cloud ERP security, chances are it's changed since the last time you investigated it. As more companies move to the cloud, security improves.
Cloud security offers …
Better safety for physical hardware.
If your server is located on premises, where is it? In the basement or in a separate room? How is the door locked?
No, that's not a silly question. Many companies place their business servers in a special room but fail to install extra secure locks. They may leave the doors open during the day to enable I.T. workers to have easier access to the server. But by doing so, they also leave the doors open to security breaches.
Better protection against cyber-attacks.
In addition to physical security, there is of course the thread of cyber-attacks. On-premises software must be kept updated, which requires someone on staff dedicated to monitoring, maintaining, and protecting the system.
Ransomware is on the rise, with one expected every 11 seconds in 2021. The global costs of these "spray and pray" attacks is expected to be $20 billion. Phishing emails are the source of most ransomware attacks, and while these emails are often easy to spot, just one mistake can be costly.
With cloud ERP software, the cloud-hosting company worries about keeping their computers secure against cyber threads. You'll need to do your part to protect against threats like phishing emails by making sure employees choose strong passwords and aren't fooled into clicking malicious links that steal their data. But by and large, cloud ERP offers better security than most companies can provide with on-premises software.
Better (and more frequent) backups.
Another benefit of cloud-based ERP software is that most companies provide frequent backups. They also monitor their systems and, in the event of a problem, switch to backups to provide uninterrupted service to their customers. Few companies can provide such service when hosting their ERP on premises.
Better trained staff to handle security needs.
Cloud ERP systems have dedicated teams with the latest knowledge of systems administration, cyber security, and other information technology topics. Can your company afford a similar team? Probably not, and that's yet another reason why cloud ERP security is hard to beat. With the right team and training in place, cloud companies can provide better service to many companies at an affordable price. It's more cost effective to work with their dedicated staff than to try to add such capacity to your company.
As you can see, cloud ERP security is better than you may think. With the added protection of a cloud-based system, you'll have one less thing to worry about and can, instead, focus on your business and maximizing every opportunity that comes your way.
Emerald TC
Emerald TC provides software and consulting for manufacturing companies. We can help you choose the right accounting software, ERP system, payroll, or other software for your needs. Contact us or call 678-456-6919 for more information.