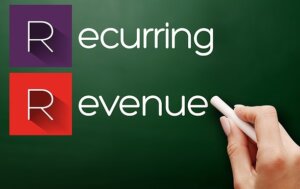 Recurring revenue management software makes a huge difference in how you manage products or services in a recurring model. Such a model (think Netflix or Chewy's automatic pet food delivery service) offers a steady income stream in return for a steadily supplied product or service. Customers get the convenience of products or services delivered without interruption while producers and manufacturers experience the benefits of a steady, predictable income stream.
The secret to growing your recurring revenue model is the right software. With the right software and these four tips, who knows? Your company may be on the brink of something great!
Four Tips for Recurring Revenue Management Success
What do you need to create a successful recurring revenue management model? These are the four must-haves for a great recurring revenue stream.
Strong processes, both for taking orders and especially for fulfilling them
A profitable recurring revenue model
Pricing that maximizes revenue
Recommended capabilities for a recurring revenue management system
#1 Processes
A profitable recurring revenue model relies upon its processes for success. Processes must be in place for:
Sales and marketing, preferably through a CRM to automate it further
Order processing and recurring payment processing
Service delivery
If any one of these processes are flawed, the model will falter. The recurring revenue model works off the need or desire of customers to receive a consistent product delivered on a regular schedule. Consumables, such as diapers or pet food, work great in a recurring model because they are consumed on a regular schedule and must be replenished accordingly. Processes ensure orders are delivered on time, every time, and enhance the overall appeal of the model.
#2 Profitable Revenue Model
It's one thing to create a desirable product that can be shipped on a regular schedule and another to achieve a profitable revenue model. Netflix is able to achieve a profitable-revenue model thanks to its ability to deliver streaming services over the web. It can make deals with specific production studios and avoid the fees charged to cable companies for wired movie delivery. Your model must be profitable enough to sustain the service over a long period.
#3 Pricing
A recurring revenue model is only as good as its pricing. Price it too high and customers will forgo convenience for cost-savings. Price it too low and you've violated #2 (a profitable-revenue model). Price testing, comparative pricing, and a thorough study of the competition can help you evaluate pricing models and find the most profitable one for your products or services.
#4 Capabilities
Systems to track orders, receive payments, and deliver goods or services must be flawless. Here's where the system capabilities are so necessary. Revenue-processing systems such as Acumatica must be flexible enough to accommodate multiple-payment models, contract types, and billing cycles. Even if you choose a system that does what you need it to do to launch your recurring model, eventually you may wish to make changes. A flexible system that can handle such changes is the best choice for recurring revenue success.
Acumatica for Recurring Revenue Management
Acumatica cloud ERP offers just the flexible system you need for recurring revenue management. It's used by hundreds of companies that utilize different payment methods and sell various products. The system works with CRM, accounting, operations, and other departments to share useful and timely information about recurring revenue and support recurring bills, deferred revenue, and deferred revenue recognition.
Recurring revenue models can be immensely profitable if handled correctly. If your company is considering such a business model, talk to us first about which ERP is best equipped to handle it.
Emerald TC
Emerald TC provides software and consulting for manufacturing companies. We can help you choose the right ERP system for a recurring revenue model and offer Acumatica and other software packages for every type and size company. Contact us or call 678-456-6919 for more information.