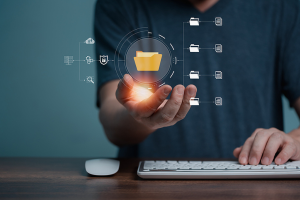 Document management systems streamline and simplify office paperwork. They ensure vital documents are stored electronically and can be accessed by anyone using the same computer system. Digital document management systems also make it easier to route documents for review and comments, and share them with multiple people.
Integrating your document management system with your company's enterprise resource planning (ERP) or accounting system takes productivity one step further. Integration means combining the two systems, so they work together harmoniously. An integrated document management system improves accessibility and streamlines productivity. Here are our top five reasons for integrating your ERP and document management systems now.
Easier Document Access
Streamlines Approvals
Enhances Efficiencies Across the Company
Enables Rapid Retrieval of Important Documents
Improves Security
Easier Document Access
1. Easier Document Access
During the pandemic, many companies discovered that accessing important documents and submitting copies of paperwork became a roadblock to efficiency. Document management systems enable users to scan or snapshot paperwork, where it is intelligently analyzed and added to systems. Without integrated document management systems, users working from remote locations must either email PDFs or take snapshots and upload them to the cloud, and another employee has to key them into the appropriate fields in the ERP.
An integrated system enables all users of the ERP to access documents. More importantly, it imports them into the ERP itself, merging them with existing fields to complete records. This makes it much easier for anyone with ERP access to view and access records, depending on their permission levels, no matter where they log into the system.
2. Streamlines Approvals
Many things require management approval: expense reports, customer quotations, etc. With document management systems, documents can be routed rapidly for approval. When integrated into an ERP system, the system itself can set up reminders to review critical information. It can also route information via email to the appropriate person if integrated into a productivity suite or as part of a larger ERP platform.
3. Enhances Efficiencies
How many times have you struggled to find information on your company's shared network—or even on your own computer? With an integrated document management system, the information uploaded to the document system is now accessible through the ERP. It should be easier to find, thus improving efficiencies. Additionally, information that needs to be routed to someone can be done so through the ERP without exiting the system and entering a second system.
4. Enables Rapid Retrieval
When customer service agents or sales team members are on the phone with a customer, they need the ability to quickly retrieve vital information: contracts, invoices, memos, letters, receipts. All of this can be easily integrated with an ERP system and other systems, such as a CRM, to improve customer service when used with document management systems. This improves communication through all service channels and, by extension, enhances customer satisfaction.
5. Improves Security
Document management systems by themselves offer good security, but when integrated with a cloud-based ERP, they add layers of protection and backup that are unparalleled. Permission levels may be granted to various documents as needed, protecting personal and confidential information from employees who do not need to see it. Cloud systems are also backed up offsite, meaning the data in them is backed up by the cloud hosting company on redundant and geographically disperse systems. This ensures that in the event of an outage, you still have access to the information, and in the event of fire or natural disaster, the information is protected in a separate location. While such security may be part of a cloud-based document management system, it is enhanced when that system is integrated into a cloud-based ERP.
Altec DocLink
We recommend AltecDocLink if you're reviewing document management systems to integrate with your existing ERP or office productivity suite. It's a reliable way to process, handle, and store documents in your company, and integrates well with various ERP and CRM platforms. If you're looking to tame the paper tiger, AltecDocLink may be the right choice.
Emerald TC
Emerald TC provides software and consulting. We can help you choose the right ERP system for your needs. Contact us or call 678-456-6919 for more information.