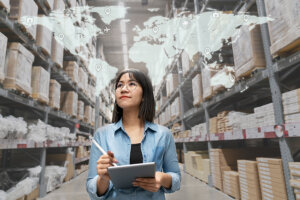 There are many great reasons to add ERP inventory management to your systems this year, but we've focused on the top 5. If you're looking to support your business case for adding inventory management to your ERP suite, these reasons are likely enough to convince even the most skeptical C-suite executives.
Interpretation of Inventory Management – How Healthy Is Your Company?
The inventory turnover ratio is a ratio that analysts use to assess the percent of inventory locked in as working capital. Companies with a lower inventory turnover ratio look favorable because they are using their inventory to work for the benefit of the company—generating capital. High inventory ratios may point to poor corporate leadership, poor judgment, and low sales.
If you are not tracking inventory accurately, the inventory turnover ratio may be inaccurate, thus leading to incorrect conclusions about what is selling and how briskly items are selling. This, in turn, can lead to overstocking some items while understocking others. Companies who cannot manage their inventory often struggle to remain in business.
5 Reasons Why ERP Inventory Management Is a Must
There are many reasons why adding ERP inventory management can benefit your company. These are our top five choices:
Accurate measurement: You can't improve or fix what you can't measure. ERP inventory management allows you to track and report on key inventory measures easily, quickly, and accurately. By doing so, you have the data you need to make informed decisions.
Easier forecasting: Business forecasting can be challenging, but poor inventory control makes it even harder. With ERP inventory management tools, you can improve your company's business forecasting. The data from past quarters adds to the systems' data repository for drawing conclusions and forecasting.
Improved supply chain visibility: Many ERP systems can synchronize data across multiple points. Vendors who can connect their suppliers into their system achieve improved supply chain visibility so they can see information about raw goods and materials at all points in the chain.
Better accounting and financial statements: Systems that connect inventory to the ERP enable companies to generate more accurate accounting and financial statements. Data transmitted from the warehouse to the ERP system creates up-to-the-minute accuracy.
Saves money: By improving inventory accuracy, companies can save money by preventing over ordering. It can also help prevent out of stock messages that lead to lost sales.
ERP Inventory Solutions
Looking for ERP inventory solutions? Sage and Acumatica both offer excellent ERP integration solutions for inventory management.
Sage Inventory Advisor integrates with Sage ERP solutions and can be added to your system in as little as 30 minutes. The system helps you improve fill rates by 2-10% and provides accurate and timely updates on inventory levels.
Acumatica offers inventory management that is often rated as one of the best. It is a true cloud solution built right into the base Acumatica package which enables you to track inventory, manage supply chain visibility, and more.
Whether you have Sage or Acumatica installed as your company's ERP solution of choice, there's an inventory management product that can help reduce stock outs, improve inventory accuracy, and provide better forecasting and reports.
Emerald TC
Emerald TC provides software and consulting for manufacturing companies. We can help you choose the right ERP system for your needs and offer Acumatica and other software packages for every type and size manufacturing company. Contact us or call 678-456-6919 for more information.