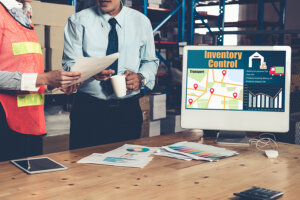 Sage warehouse automation through Scanco enables you to fulfill orders more quickly and efficiently than ever before.
There are two ways to automate a warehouse. You can automate the movement of goods, or you can automate the processes inside your warehouse. With Sage warehouse automation, you'll be able to automate many of the processes inside your warehouse. The improvement in both accuracy and efficiency boosts customer satisfaction and profits. It's a win-win.
What Is Sage Warehouse Automation?
Sage partnered with Scanco, an expert maker of warehouse software, to enable Scanco's systems to work seamlessly with Sage 100. Scanco's software loads onto any mobile device, transforming it into a barcode reader. This automation enables you to swipe inventory into the system, check on stock status, and synchronize the data throughout the ERP to have up-to-date inventory information.
5 Benefits of Warehouse Automation
Warehouse automation with Sage and Scanco is more than adding a nifty new software package to your company. It's a powerhouse of automation, information, and efficiency.
The benefits include:
Improved productivity
With Sage warehouse automation tools, you'll boost productivity. One person can now do much more in less time with Scanco than tackling such tasks manually. Instead of writing barcode numbers down or flipping through pages of inventory sheets on a clipboard, simply scan and you're done. Consider how many minutes such a process can shave off inventory stock taking, order fulfillment, and more.
Lower operating costs
Automating your warehouse also means lower costs in many areas. With increased productivity comes less need to pay overtime or hire additional workers, so you save on salaries and wages. Better inventory management means fewer overstocks, so you'll save on the costs of inventory. And with less excess inventory, you'll have less need for space, so you can save on warehouse costs, utilities, and other costs associated with physical warehouse space.
Better accuracy
Warehouse automation improves the accuracy of stock counts. With improved accuracy comes better inventory control. You'll also be able to manage shrinkage better since automation significantly reduces the potential for inventory counting errors.
Timely data
Automation enables data from the warehouse system to flow seamlessly into the ERP system. This provides you with highly accurate and timely data. You'll be able to see in an instant the status of inventory in all your company's warehouses, not just the ones you can visit in person. And, with automation comes the ability to set notifications so that when stock on items runs low, the system reminds you to reorder.
Ability to integrate
Lastly, one often overlooked benefit is the ability to integrate your systems with your suppliers. When you automate your warehouse, you'll have a system capable of integrating with major suppliers. This provides improved supply chain visibility and the potential to restock faster.
One System, Many Benefits
Trying to predict consumer demand can be as challenging as predicting the weather. But, with the added power of warehouse automation, you'll improve your forecasting abilities. The enhanced data available from warehouse automation systems adds to your overall body of knowledge so trends become more readily apparent, and you can improve sales forecasting.
It's amazing how adding just one system—Scanco warehouse automation—adds up to so many benefits. No matter how you look at it, improved inventory management, better supply chain management, improved visibility, enhanced productivity, and positive customer experiences add up to a healthier bottom line.
Emerald TC
Emerald TC provides software and consulting for manufacturing companies. We can help you choose the right accounting software, ERP system, payroll, or other software for your needs. Contact us or call 678-456-6919 for more information.