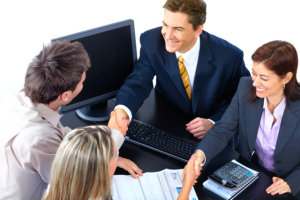 In addition to a competitive salary and commission on billable hours and sales, Emerald TC offers some sweet benefits.
"I was formerly in the accounting profession, and made the switch to consulting because of my technology aptitude and interest. It has been a great experience, and working at Emerald TC is both challenging and rewarding. It gives me a sense of accomplishment to implement systems at companies around Atlanta, and it's also fun to work at new and different places. Emerald TC offers extensive training and continuing education, and the opportunity to grow professionally in a leading-edge environment." — Emerald TC Consultant
Application Consultant
Have experience with debits and credits, but want to get away from end of the month closings? Become an Application Consultant at Emerald TC! Enjoy a flexible environment while implementing technology applications such as Sage 100cloud ERP and Sage 500 ERP serving businesses in the municipal areas of Atlanta, Georgia; Birmingham, Alabama; Nashville, Tennessee; and more. Must have a technology aptitude and interest, and business as well as accounting experience. Minimal travel required. E-mail or fax resume to: lyearty@emeraldtc.com, or call 678.456.6919.