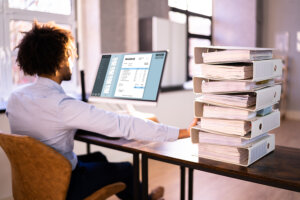 Accounting automation solves many common problems found in the average company:
Missing documents
Time-consuming search for paper documents
Keying and rekeying data
Limited workflow visibility
With accounting automation, you can save time by always having the right documents on hand, on demand; routing documents for signature automatically; eliminating manual data entry; and gaining complete visibility into the accounting workflow.
Accounting Automation Example: Order Approval Process
Let's use an example of how accounting automation can expedite the order approval process. Most companies require a manager's signature on an order before it can be executed. Often, a senior manager's signature may be required for orders over a certain dollar amount.
In the typical company, paper forms must be routed among various employees for a physical signature. What if the employee isn't in the office that day? It waits on their desk until they can look at it which can delay the order by days (or weeks).
Even if the manager is available, they may not be able to review the forms in a timely fashion or may have questions. This further delays the order.
Now let's look at automating the order approval process through accounting automation. In this scenario, the employee can scan paper-based forms into the system using DocLink. DocLink's Smart Forms feature can then automatically complete custom forms, such as your company's internal requisition form. And the system can route the document electronically to the right parties for review and signature. A question? No problem—it can be addressed quickly and efficiently via email or instant messenger separately from the system.
If an employee is traveling, there's no problem. If they have access to the company's systems through the cloud, they can log in and view the documents waiting for approval. It's faster, more efficient, and very effective at saving time.
Smart Forms for Altec DocLink
Smart Forms for Altec DocLink lets you configure your own personalized DocLink user interface for collecting data used to process and approve your documents. You can see related documents at the touch of a button and generate new documents just as quickly.
Smart Forms for DocLink can:
Capture receipts for Expense Reports and import them immediately into the system, eliminating errors, excess paper, and lost receipts.
Route credit card bills from each user to them for review by importing CSV data into the system.
Enter, track, and review employee onboarding documents quickly and easily.
Create forms to add new vendors and related paperwork into the system.
Although many scoff at the idea of a truly paperless office, accounting automation certainly reduces paperwork. More importantly, it increases efficiency, reduces errors, and enables accountants to move on to other tasks. It's a winning system that uses the best technology to replace tedious data entry with efficient automation.
Emerald TC
Emerald TC provides software and consulting services. We can help you choose the right ERP system for your needs and offer Sage, Acumatica, and other software packages for every size company. Contact us or call 678-456-6919 for more information.