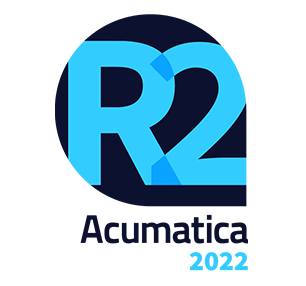 Acumatica 2022 R2 is the second of the company's annual updates. The September 2022 update of Acumatica features improvements that make this user-friendly and cost-effective true cloud ERP highly competitive against other products and an exceptional platform for busy, on-the-go executives.
The Acumatica 2022 R2 release focuses on three themes:
Enhanced usability
Global reach and access
Targeting micro verticals
Many companies, especially manufacturers, rely upon Acumatica's exceptional accessibility, flexibility, and customization. Here's more information about the R2 Acumatica highlights.
Enhanced Usability—Exceptional UX Design
As the ERP software market has evolved, companies have paid greater attention to the overall usability of their platforms. None more so than Acumatica, which has always received high praise for its usability. G2 ranked Acumatica first for usability, for example, and others have heaped praise on the revised interface. The R2 Acumatica 2022 release, however, outdoes itself with multiple improvements that enhance usability.
Accelerated workflows through automated mobile signature capture. The system automatically affixes an electronic signature to the appropriate invoice and sales order.
An improved mobile interface that makes it easy to find what you need. The mobile interface mirrors the user's desktop interface, so all your favorite links are there. Plus, you can hide widgets, rearrange items, and configure screens to your needs to improve efficiency.
Simplified yet robust color coding, so you can create your own coding system and see important items at a glance.
Instant help through wiki files. Just hover your cursor or tap the fields with intelligent tooltips and you get the help you need. There's no need to exit the system or open a separate window or tab.
Lastly, Acumatica 2022 R2 provides enhancements to contract-based REST APIs for software integrations at scale.
Global Reach and Access
As the business world has grown more complex, it has also grown smaller. Companies must be able to sell into new markets regardless of geography. With new features in this release of Acumatica true cloud ERP, you can sell into global markets with ease.
With the revised Acumatica 2022 release, you can calculate taxes across multiple tax zones with ease. Add them to new sales orders or invoices.
Acumatica 2022 R2 features enhancements that improve global reach and access include:
The ability to implement Canada-specific features at the company level to simplify setup, reporting, and management of companies with legal entities in multiple countries
The ability to calculate taxes automatically through assigned tax zones for new sales orders and invoices, based on country, state, and zip code.
Improved order tracking through Shopify, especially tracking of omnichannel orders
Instant access through the system to third-party carriers and better order tracking
Ability to Target Micro Verticals
The more specifically companies can target micro verticals, the better chance they have of withstanding the many changes in their industries. Targeting micro verticals is even easier with Acumatica 2022 R2.
The new update includes features such as:
Enhanced inventory management
The ability to define cost centers in inventory and improve storage, inbound, and outbound material handling.
Manufacturing-specific improvements:

Ability to create or modify multi-level BOMs with drag and drop (or copy and paste) features from the interactive Engineering workbench.

Improved collection of shop floor data and job cost accuracy

Multi job clock-in and clock-out activities

Side panels that give users direct access to multiple manufacturing and engineering screens without leaving the main data entry screen

Balance supply and demand with MRP for planned inbound and outbound transfer orders across warehouse locations.

Contractors and service companies:

Improved efficiency in scheduling field service, such as by required skills

Better, simplified service expense entry
Without a doubt, Acumatica's attention to customer needs has made it the best true cloud ERP in the market. It is especially useful for manufacturing, contractors, and field service needs. For more information, visit Acumatica.
EMERALD TC
Emerald TC can help you choose the right ERP system for your needs. 
Contact us
 or call 678-456-6919 for more information.