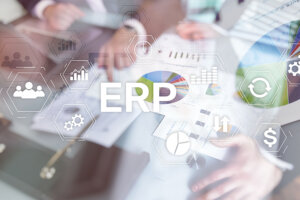 If you're looking for a QuickBooks alternative, Acumatica ERP offers an excellent choice. QuickBooks is a popular off-the-shelf accounting program designed for the needs of small businesses. If your company has outgrown QuickBooks, or it doesn't meet the demands of your industry's accounting requirements, consider moving to a robust ERP like Acumatica.
What Is ERP?
ERP stands for enterprise resource planning. Such systems offer more flexibility and better insight into multiple aspects of a business' operations beyond its accounting. An ERP can function as the main point of integration for all businesses processes, including accounting, finance, e-commerce, marketing, sales, operations, and more. And, with the addition of third-party software applications, it can also provide additional insight and support for things such as fixed asset management, field service, warehouse and inventory management, supply chain management, and more.
Why Choose Acumatica as a QuickBooks Alternative?
Acumatica is an excellent choice as a QuickBooks alternative, although it may feel like moving from a paper airplane to a spaceship because it is lightyears ahead of an accounting program!
Once you begin using Acumatica, you'll wonder how you ever did without it. Acumatica can track information from multiple areas of the company and synthesize it into robust reports that provide valuable insight for managers. This information can then be used to improve processes, production, sales, product development, and more.
Yes, you can continue using QuickBooks as a stand-alone accounting system, but that entails considerable finesse with spreadsheets. The accounting software only allows users to download CSV files or spreadsheet-based files which need additional work to produce charts, graphs, and other data visualizations.
With Acumatica, all it takes is the tap of a button to produce reports that help you gain deep insights into your company's operations, finances, and more. There's no need to download data files and upload them into another program or work with spreadsheets. Everything is easily accessible from one system.
Making the Switch from Acumatica to QuickBooks
Once you've done your homework and chosen Acumatica as a QuickBooks replacement, the process of moving to an ERP system can begin. Acumatica Cloud ERP can be deployed in numerous ways.
First, make sure you have a representative team of employees from each department to work on the overall ERP deployment plan. We've shared a basic cloud ERP deployment plan, and also have a guide available from Acumatica to help you transition from QuickBooks to Acumatica.
A few things to note as you enter the implementation phase:
Allow plenty of time for set up and implementation. Acumatica is more complex than QuickBooks and it will take more time to learn how it works, where to find information, and how to access the reports that you need. It is a user-friendly system, but like anything new, it does take time to learn. Be patient with yourself and your team during this process. Seek training and assistance from your Acumatica reseller or utilize the Acumatica Training Videos, Tips & Tricks provided on our site.
Collect all the sources of data in your company. This may mean physically collecting files or paper printouts or simply creating a list of the spreadsheets and other resources available, including customer files, mailing lists, order information, and other data that should be included in the ERP system.
Determine which person from each department will be its representative. It's vital to have someone from each major department—sales, marketing, operations, warehouse, accounting, finance, and management or HR—on the team to weigh in on decisions that impact their areas of specialty.
Participate in all available training sessions once the system is live. Take advantage of every opportunity to learn more about how your system functions. When it comes to ERP, there's always more to explore.
As a QuickBooks alternative, Acumatica ERP offers a robust computer system for just about every aspect of your business. It can easily replace your current accounting program and offers so much more.
Emerald TC
Emerald TC provides software and consulting for manufacturing companies. We can help you choose the right ERP system for your needs and offer Acumatica and other software packages for every type and size manufacturing company. Contact us or call 678-456-6919 for more information.