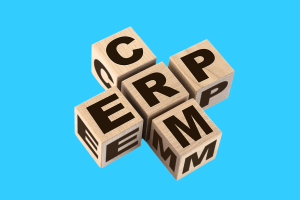 Acumatica CRM, when integrated with Acumatica ERP, offers a powerful platform from which you can manage many business functions. ERP stands for enterprise resource planning, a central system that enables you to manage many business processes and functions from one central system. CRM stands for customer relationship management. Each may be used as a stand-alone system, but when integrated (combined) into one platform, the resulting system offers exceptional efficiencies and productivity benefits.
Replace Spreadsheets with Automation
An immediate benefit of using Acumatica CRM, an integrated ERP and CRM system, is that it can replace spreadsheets throughout your company.
Many companies have a "spreadsheet for everything." They track customer information, orders, returns, and financial data in multiple spreadsheets. Sometimes, these sheets are shared on a cloud drive, but often they exist on separate computers. Accessing them consists of sending links or actual files to the recipient, but updating them, and ensuring that everyone is using the latest version, can quickly be a nightmare.
Adding Acumatica CRM to your company's technology platform can mean replacing spreadsheets to manage customer data with a streamlined, integrated platforms that makes it easy to access, update, and use customer data efficiently. Instead of juggling multiple spreadsheets, you can tap into one central Acumatica customer management system integrated with your company's basic ERP. One change made to the customer record flows throughout the system. It's easier, faster, and more efficient.
Manage the Quotation to Sales Cycle Effortlessly
Another benefit of using Acumatica CRM is managing the quote to lead cycle. Acumatica's built-in customer management portal enables efficient tracking of the customer throughout the entire sales cycle from lead to quote and close. Instead of moving among multiple systems or spreadsheets, the cycle is built into the system and offers exceptional visibility for everyone throughout the company. This can improve forecasting, closing rates, and more.
The Continual Customer Journey
An additional benefit of using Acumatica CRM is the ability to track the customer throughout the entire customer journey. Acumatica's ability to track and view the entire customer record enables anyone to understand how customer leads convert into sales, and this data can be used to improve and enhance the sales process. Leveraging this insight can mean greater sales and higher closing rates.
Deeper Customer Insights
When customer data exists in one central ERP or CRM database, it is much easier to derive reports to enhance a company's understanding of their customer base. By analyzing how people heard about the company, demographic information, company size and industry, and other information contained within the database, companies can use this information to build new and more effective marketing and sales programs. Such data analysis can only be completed, however, when the data exists in one central repository. Acumatica CRM accomplishes this task and makes it easy to develop better customer insights and use them to enhance sales and marketing.
Learn More About Acumatica
We offer more information on Acumatica and are happy to explore with you whether Acumatica CRM is right for your company. We recommend exploring our many Success Stories to see how other customers, perhaps in your industry, used Acumatica CRM to solve their challenges.
Emerald TC
Emerald TC provides software and consulting. We can help you choose the right ERP system for your needs. Contact us or call 678-456-6919 for more information.