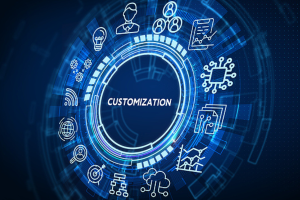 You might already know how valuable ERP systems are to your business. But for the best results from your system, you should take advantage of Acumatica customizations that will make your system unique to your company.
Benefits of Acumatica Customization
Is it worth your time to customize your Acumatica system? Shouldn't your system be ready to use right away?
There is no doubt that your ERP system offers incredible functionality right out of the box. This functionality is generalized to work with any business, but you don't have just any business. Because your business is unique, you need Acumatica customizations that address your needs. Your system can be customized to work for your specific business, rather than just any run-of-the-mill business.
Your Acumatica custom solution is developed based on an in-depth understanding of your needs and requirements. This results in improved efficiency, flexibility, and usability, which are critical for that competitive edge you need to succeed.
Take a look at four of the Acumatica customization options available to you.
User Interface Customizations
You can make your software truly yours by customizing its user interface. Everything can be customized, including field labels, business reports, data analytics, and trends. You can also modify screen layouts and color schemes to meet user needs. Customization options also allow for differentiating access for employees based on their departmental roles.
By allowing users to adjust the default logout time in their preferences, you balance user experience and security. The approval process can be optimized by selecting a user who will receive another user's approval requests over a predefined period of time. You can even increase business event transparency by notifying previous event owners, such as support or sales staff, about event activity.
Workflow Automations
Workflow automation is one of the most critical Acumatica customizations. You can design custom workflows based on items, customer types, accessibility, and more. It is possible to generate BOMs instantly based on the rules and formulas you determine. You can improve precision and reduce manual errors by automatically assigning tax zones based on the entered country, state, and postal code. For example, you can enhance your Canadian tax reporting processes by reviewing remittance reports in Acumatica before you submit the T5018 form to the Canadian Review Agency.
The most important benefit is that your and your clients' data will be housed in a more secure system.
Custom Integrations
Without Acumatica customizations, you will struggle with integrating any third-party platforms you currently use. These platforms can be anything from smart devices, cloud services, custom-made APIs, and other third-party tools. For example, with Acumatica's Gmail integration, you can send emails and share files with internal and external contacts without leaving Acumatica.
Functionality Extensions
To blend platform functionality with the specific needs of your business, customizing functionality is necessary whenever a new feature is added to your Acumatica system. If you want to optimize workflow, you may need to add extensions or make other modifications to your system.
Is Customization Right for You?
The customization of your Acumatica ERP platform is critical for its optimal performance, but it's not something you should dive into blindly. To implement changes successfully, there are a few things to consider.
Ensure you know the time and cost commitments required for your Acumatica customizations. You'll need to understand how complex your customizations will be to get a clear picture. You'll need someone well-versed in writing and integrating new code into your existing code base. Therefore, it is usually best to keep Acumatica customizations simple.
If you aren't satisfied with the end result, you will have a harder time reversing your customizations. In addition, fixing mistakes is more difficult. This is why support is also important. Can your vendor accommodate custom programming needs, or are you going to have to take care of this yourself?
Get the Most Out of Your Investment
Our experts will help you maximize your ERP investment. We'll take the guesswork out of implementing ERP software—including installation, module setup, staff training, custom forms, reports, and even Acumatica customization. Contact us for a free consultation and learn how we can help you reach your goals.