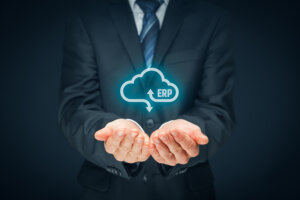 Unlike other ERP platforms, Acumatica ERP pricing is based not on each license or seat but on usage. This means you pay for the features you choose to use rather than the number of people logging into the systems. This enables you to focus on what matters most to your business and pay only for what you need, a real plus for many companies.
How Much Does the Average Company Spend on ERP?
Software Path found the average budget per user is $8,265. This number was based on 1,338 projects reported as part of their study and may not reflect the actual pricing of specific ERP platforms.
The average price may not be what you'd pay for a particular ERP system, but it does point out a big difference in how Acumatica ERP pricing differs from pricing for other ERP models. Imagine a company of 100 workers, each needing a site license at $8,265 per user. That amount can quickly change depending on the nature of the business.
Budgeting for Acumatica ERP Pricing
So how much will your Acumatica implementation cost? The actual amount varies according to your company's needs and the plan chosen. However, you can take several important steps to budget for your Acumatica implementation.
1. Build your budget.
To adequately budget for an Acumatica system, you'll need to think through the following questions:
What features do you need? If you aren't sure, you should meet with an Acumatica consultant to review the options and discuss internally among your teams what's needed.
Will you need to connect multiple locations and companies to the core ERP system?
Do you need additional features, such as CRM, HRMs, or WMS?
What, if any, customization may be needed to the system in order for it to provide useful data to you?
What are your data conversion and migration requirements?
What is the complexity of third-party applications and how many do you need?
Additionally, you may need to budget for ERP implementation in addition to the cost of the system itself. And, any custom programming, reports, or integrations will be an additional charge, which should be included in the overall project budget.
2. Choose the license model
Acumatica offers a popular cloud-based model as well as an on-premises version. There are pros and cons of each model which we have covered in greater depth in other articles.
Suffice to say that you should think through these pros and cons before speaking with potential resellers and implementation partners about Acumatica products. Choosing on-premises software may require an additional investment in hardware, so you'll want to factor that into your budget as well.
3. Get leadership buy-in.
An important but often overlooked step in the budgeting process is getting leadership buy-in. It's likely you have the green light to proceed with your Acumatica ERP pricing exploration but how do you get company leadership to sign off on the final price tag?
The key is to keep them involved in every step of the process. Be sure you're transparent about what you're doing, how you are comparing features and benefits of various ERP platforms, and any other steps you are taking to ensure your company implements the best possible ERP system. This is important to secure leadership buy-in for any software platform purchased.
Acumatica ERP Pricing—Learn About Acumatica
Not sure Acumatica is right for you? The first step is to learn more. Visit our Acumatica section to learn more about this powerful ERP system and to explore its many features to see if it is a good fit for your company's needs.
Emerald TC
Emerald TC provides software and consulting for manufacturing companies. Contact us or call 678-456-6919 for more information.