Acumatica receives rave reviews from multiple sources.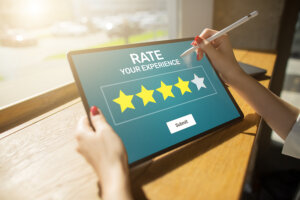 If you're considering new enterprise resource planning (ERP) software, you know it's important to conduct thorough research to find the best software for your company. ERP requires an investment of time and resources to add to any company. Whether you're choosing on-site or cloud ERP, knowing that you've chosen a proven winner adds to your confidence when recommending software.
Acumatica has been honored with many awards and great reviews across the board. Here, we've summarized Acumatica reviews to help you assess the software and compare it to other products on the market.
Gartner Peer Insights
Gartner Peer Insights is an online platform where users rate IT services and software. More than 91% of users of the Gartner Peer Insights platform awarded Acumatica Cloud ERP either a 4- or 5-star rating. All the reviews contain actual comments from the reviewers, giving you greater insight into the satisfaction and unique feedback from everyone who left a review. Most reviewers focused on Acumatica's benefits for small and mid-sized businesses. The most popular feature? Acumatica's flexible pricing model, which was a hit with reviewers.
Read the report: Gartner Peer Insights.
G2 Momentum Leader
Acumatica was also named as a Momentum Leader in Spring 2021. The Momentum Grid assesses software based on a proprietary algorithm. Customer satisfaction with the software is an important component of the assessment. Acumatica came out as a leader among all ERP software companies in the recent report.
View the Momentum Leader Grid: Momentum Spring 2021
Gold Medalist in the Data Quadrant Reviews
Acumatica recently received the high honor of winning the Gold Medal in the Data Quadrant Reviews. The Data Quadrant review is based solely on customer feedback, excluding analysts and so-called expert opinions. This means it reflects what actual users say about the software. This makes them especially meaningful to the Acumatica team, which truly cares about customer feedback on their product.
Read the full report: Data Quadrant Review
Customer Experience and Team Relationships Leader
Another award based on customer reviews is the Enterprise Resources Planning Emotional Footprint Report, a long name for a rating report. It is based on actual user interactions with client services, product specialists, technical specialists, and sales personnel.
Acumatica received a positive rating of 80% in this report, with 81% stating that the cost of Acumatica is fair relative to its value.
Read the full report: Enterprise Resources Planning Emotional Footprint Report (October 2020)
The Best Choice for User-Friendly ERP
Considering the vast array of software choices available to businesses today, Acumatica stands out from the crowd. It consistently wins high ratings from users for its service and support, fair price relative to its value, and useful features.
Although any cloud ERP system has a learning curve, Acumatica is exceptionally user-friendly. Once you begin using it, you'll wonder how your business survived without it.
Acumatica's many user-friendly features include:
Flexible licensing options that allow for growth. Pay for the use, not by the user.
Multiple deployment options allow companies to choose what works best for them. On-site or on the cloud, Acumatica provides the support you need for a busy business.
Real-time insights from Acumatica cloud ERP can connect teams working remotely as well as warehouses and multiple locations.
Many integration options allow companies to easily and quickly integrate Acumatica into common productivity software as well as many other industry-specific packages to create the exact system needed.
With the right consultants to help you choose the deployment option that fits your needs, you're ready to support your company's growth with Acumatica. It's an award-winning ERP option.
Emerald TC
Emerald TC provides software and consulting for manufacturing companies. We can help you choose the right accounting software, ERP system, payroll, or other software for your needs. Contact us or call 678-456-6919 for more information.