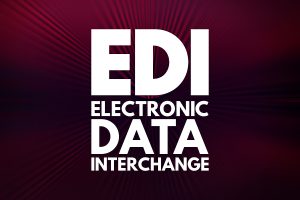 While electronic data interchange (EDI) used to be an expensive proposition for small companies, it is now affordable for Sage 100 and Sage 500 users. In fact, more and more small businesses are turning to EDI to cut costs and increase competitiveness.
Even though EDI has been around for a long time, it shows no signs of going away. In fact, EDI is one of the backbones of e-commerce and is used in almost every industry. Some industry trading partners require EDI in order to reduce costs for such things as ordering, invoicing, and shipment notifications. While there are many pre-defined EDI transactions, the most common ones are Purchase Order (EDI 850), Invoice (EDI 810), and Advanced Shipping Notice/ASN (EDI 856). With the Internet, EDI providers can store the "maps" of all the possible transaction sets and trading partners.
What are the must-haves for EDI warehouse management integration?
When you are choosing an EDI solution for your warehouse, here are five items that you should look for:
Cloud-based warehouse management. When efficiency is paramount, you don't want to be tied to a desk. Cloud-based warehouse management technology means that you can access your warehouse information from any location.
Advance Ship Notice (ASN) capabilities. ASN allows visibility into how much inventory will be arriving to help with planning and scheduling and provides information to increase speed and accuracy making the transfer of goods much more efficient. With ASN and barcode label printing technology, you can print shipping reports and labels that are compatible with industry standards.
Seamless integration. Eliminate duplicate data entries with seamless integration to Sage 100 (MAS 90, MAS 200) or Sage 500 (MAS 500). The MAPADOC EDI mapping wizard allows data mapping on the fly. The system cuts mapping time by over 75% for inbound purchase orders and outbound invoices.
Flexible and configurable. Whether you want a turnkey EDI solution or you want to customize it, your EDI solution should meet your specific needs.
Barcode label printing integration. EDI integration with the picking process is critical for process efficiency. Your system should seamlessly generate picking information from the ASN transaction. When inventory is received, the barcode can be scanned, matched with the ASN and an internal pick label can be printed to ensure efficient inventory flows.
Integrated Sage 100 and Sage 500 EDI capabilities from Emerald TC
Emerald TC offers Sage 100 and Sage 500 ASN integration with EDI capabilities from MAPADOC. You can connect all EDI data with sales orders imported within MAPADOC to Sage 100 or Sage 500 so that you can eliminate manual data entry. This powerful enhancement automates ASN delivery to the customer.
If you are looking for a Sage 100 or Sage 500 EDI solution, MAPADOC is the perfect choice. It is a fully integrated, easy-to-use EDI system with the functionality you need to make your warehouse management system more competitive and efficient. Here are just a few of its capabilities.
Inbound Purchase Order (850) Creation.
Assign unique sales order sequences to each trading partner
Create multiple sales orders from one purchase order
Create backorders
Outbound Invoice (810) Creation
Automatically send outbound invoices after sales journal updates
Send credit and/or debit memos via EDI
Consolidate invoices from multiple sales orders
Outbound Advance Ship Notice (856) Creation
Use trading partner specific carton IDs, UCC qualifiers, UCC 128 label formats and package indicators
Calculate UCC bill of lading numbers
Automatically create ASNs for a range of sales orders and ship dates
Flexible Shipment Processing
Automatically create shipment package information
Create multiple shipment types per trading partner
MAPADOC EDI is available in three configurations so that you can choose a solution that will meet both your requirements and your budget. Contact us to learn more about using MAPADOC for your Sage 100 or Sage 500 warehouse.