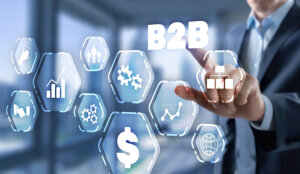 If you're still refining your B2B ecommerce strategy, you're not alone. It seems as if every day, the "big guys" roll out a glitzy new offering for their customers, shattering the strategy you've so carefully put together. Then, it's back to the drawing board to come up with another approach to rolling out a successful B2B ecommerce site.
How can you compete with the big guys or even dominate among the small to mid-sized ecommerce companies? With the right B2B ecommerce strategy, you can add or improve your online channel and increase sales.
Companies Expect B2B Ecommerce
One thing we need to get straight is that B2B ecommerce is similar in many ways to B2C ecommerce. Sure, you're selling to other businesses instead of consumers, but ecommerce is much the same to both markets. You'll need to optimize your ecommerce channel for maximum speed and security and take great care to answer customer inquiries just as thoughtfully on your ecommerce platform as you do through traditional channels.
For B2B companies thinking, "We don't need ecommerce," think again. According to one study, almost 90 percent of B2B buyers are currently purchasing from online marketplaces. The pandemic forced many companies to go online or go bust. Even if you remained unscathed during the year of the pandemic, customers now expect companies to have a website and online ordering capabilities. If you don't have a B2B ecommerce strategy, it's time to add one, or you'll be missing sales.
Trends Affecting B2B Ecommerce Strategy
There are several key trends impacting B2B ecommerce. These trends affect both vertical and horizontal markets, suppliers as well as producers.
Keep a B2C Mindset
Nearly everyone in the workforce now grew up with computers or quickly adapted to them as they became a regular part of everyday life. This has made your B2B customers very savvy when shopping online. They expect a similar shopping experience with B2B ecommerce sites as they experience on their favorite B2C shopping sites. B2B ecommerce retailers understand this mindset and provide best-in-class experiences on their platforms to win customers.
Empower Shoppers with Information
One way in which B2B shoppers differ from the average B2C shopper is in their need for information. B2B purchasers may need a great deal more information to get them to click the "buy" button. For example, a company selling pipes online may need a calculator on their website so plumbers can input the dimensions of the job site and determine how many feet of pipe to order. Product spec sheets, technical sheets, installation instructions, and similar documentation is invaluable for a robust B2B ecommerce strategy.
Think like your customers. What information do they ask for when you visit them in person? How can you recreate this experience online?
In B2C ecommerce you'll hear the term "add-on sales." This means reminding customers of related products during the checkout process so they add them to their order, thus increasing the order size. A customer buying a new shirt may be prompted to purchase pants that go with the shirt in a B2C ecommerce model.
The same strategy can be used in B2B online sales. Perhaps when plumbers buy the pipes they need, your system may suggest solder for metal pipes or purple primer for PVC pipes. Check your ecommerce software to see if you can add prompts for additional items during the checkout process, then brainstorm with your sales team the logical items to include. Even though the add-on sales may seem small, they can accumulate into a nice profit over time.
Design Mobile-First Websites
Google has made it clear that it gives higher marks to websites designed for optimum viewing on mobile devices. Most people now search the web from their smartphones. This includes your B2B customers, who may be looking for products from a job site, the manufacturing plant floor, or many places other than seated at their desks. Be sure to design your ecommerce site for fast, smooth operation on mobile devices.
Support Your Strategy With the Right ERP
There are many opportunities for B2B sellers to add ecommerce to their sales channels. The right ERP software supports this expansion and can help you manage your ecommerce strategy to its fullest potential.
Emerald TC
Emerald TC provides software and consulting for manufacturing companies. We can help you choose the right accounting software, ERP system, payroll, or other software for your needs. Contact us or call 678-456-6919 for more information.