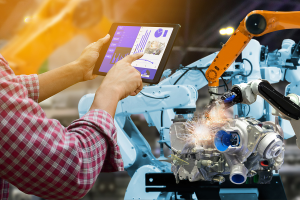 The sheer size and complexity of a manufacturer's business operations can be intimidating to those in the company who must manage employees and provide oversight to the manufacturing process. Providing such oversight and improving the efficiency and profitability of your business is nearly impossible in a paper-based system. Therefore, most manufacturers have now made the switch to ERPs: software solutions that unite business data and processes across the entire company. If you're in the market for an ERP, it's important that you choose a solution that offers role-based capabilities.
What Are Role-Based ERPs?
Role-based ERPs like Acumatica organize business data, workflows, access, and more based on a user's role at the company. This organization means that everyone in a specific role, on a specific team, or with a specific task will see only the information relevant to that role, team, or task.
For example, through a customized role-based ERP like Acumatica, warehouse managers can see shipment information, inventory data, and orders, while quality managers can see vendor performance, track lot and serial numbers, and keep track of expiration dates. Purchasing employees can manage vendor relationships and automate procurement processes, while company executives can see important KPIs and budget information from straightforward reports.
4 Benefits of a Role-Based ERP
A role-based ERP can provide many benefits to manufacturers. Here are some of the most important:
Improved Security
An important benefit of an ERP is that all your business's data is stored in one place. However, for obvious reasons, this means that your ERP needs to have strict security measures in place. With role-based Acumatica customization, you can define the data and access that employees in each role need to have. Your employees will have all the data they need to make informed decisions and work productively, but will not see irrelevant data, reducing the risk of a data leak. You can even automatically change user permissions when someone leaves or changes roles.
Personalized Dashboards
If you think about your average workday, how much time do you spend searching for information? It's probably more than you'd like. Through Acumatica customization, you can set up role-specific dashboards, showing any data that an employee may need all in one place. Each user can then personalize their dashboard further, allowing for even greater usability. Personalized dashboards will save hours of employee time by providing them with the data they need in real time.
Automated Workflows
Having control over roles in an ERP allows managers to automate and streamline many workflows and processes. For example, a role-based ERP allows you to create custom workflows that move documents or processes from one role to another, send automatic approval requests to the right people, and assign tasks to the right department instantly. By means of Acumatica customization, employees in the same team can always be on the same page regarding the projects assigned to them.
Increased Efficiency
All the above benefits result in heightened efficiency, productivity, and profitability. With important data at their fingertips, your employees can easily spot bottlenecks, issues, opportunities for growth, and resource usage in real-time. You can even set up notifications so that the right people will instantly be made aware of particularly important alerts.
Ready to Learn More?
A role-based ERP can transform the way you do business and empower your employees, resulting in improved efficiency and profitability. Acumatica is one of the best role-based ERPs on the market, allowing you complete control over and unprecedented visibility into your operations. To learn more about Acumatica's customizable role-based capabilities, download their eBook here. The experts at Emerald TC are here to help you with ERP consulting, implementation, support, and customization. Contact us today to learn more.