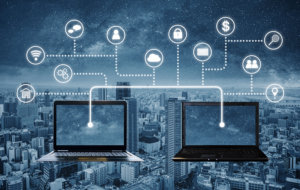 Business intelligence software opens up enormous opportunities for businesses to glean insights into every aspect of their operations. Business intelligence encompasses both strategies and technology to review past, present, and forecasted data to make better business decisions. Business intelligence software, working alongside Sage 100cloud, provides powerful data from which your staff can make better decisions.
Technology and People: The Best of Both Worlds
Although it's tempting to bemoan the way in which computers are taking over the world, the fact remains that throughout history, technological innovations always seek to reduce the need for workers and automate as much as possible. The spinning wheel was replaced by machine, the weaver's loom by weaving factories, and automated switchboards replaced switchboard operators. It's the nature of technology to replace people with machine-powered assistance.
In the world of business intelligence, people who used to gather data and manually manipulate it for reports now have time to think through the data instead of crunching numbers in spreadsheets. Business intelligence software, such as specialized tools like DataSelf, offer all managers in your company the opportunity to review data and form strategies and plans based on data. DataSelf also works with Acumatica, making it a very versatile data visualization tool.
Benefits of Business Intelligence Software
There are many benefits to your company when you use business intelligence software.
Decrease costs by improving efficiency: Businesses can improve profits by increasing gross revenue or decreasing costs. Improving efficiencies reduces costs of labor and materials. Sage business intelligence enables you to review all aspects of your business and identify areas to reduce costs.
Increase revenue: Facts uncovered through business intelligence and data analytics can lead to new insights into profitable business strategies. Fresh approaches to satisfying customers' needs can lead to increased sales. All of this can increase gross revenues. Combine with decreasing costs and the overall profitability of the company improves.
Improve response times: Business intelligence can also help you improve your response time to customers. Reviewing customer accounts, complaints, and notes in the system enables you to pinpoint areas where better response times could have helped save the account. Noting where and when customers needed help provides information to pre-empt future problems. You can put into place systems and procedures to improve customer service.
Solve common business problems: Recurring issues often plague a manufacturing business. Business intelligence enables you to find such problems. For example, if one piece of equipment frequently goes offline during a specific portion of the manufacturing process, it may be time to call for maintenance to prevent the problem and investigate it further. Doing so now could save considerable time and headaches later when you have to halt production and call the customer to explain delays.
Data Visualization
A discussion of business intelligence wouldn't be complete without mention of data visualization. Data visualization is the use of graphics to convey information at a glance.
They say a picture is worth a thousand words, and data visualization can help impart the essential information found in reports very quickly. For example, a graph showing sales by quarter is much more effective in a presentation than raw numbers. Pie charts, bar graphs, scatter plots, and other visualizations of data make information easier to understand for many people.
ERP, data visualization tools such as DataSelf, and the combined experience of your management team can lead to improvements throughout the company. The information gained from using business intelligence can help improve profits, decrease costs, and enhance customer service. If you are running Acumatica or Sage 100cloud, business intelligence and data visualization tools such as DataSelf provide outstanding benefits.
Emerald TC
For a free consultation, call Emerald TC. Emerald TC is an Atlanta-based consulting organization that offers Acumatica, Sage 100cloud, and other solutions to help small and mid-sized businesses improve their productivity and efficiency. Please contact us or call 770.377.8334.