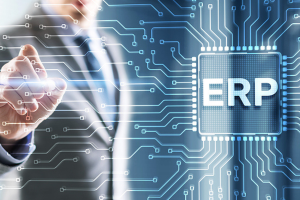 Accounting ERP software may be on-premises ("on-prem"), cloud-based, or a hybrid combination of the two. On-prem software requires investment in hardware and support personnel to update and maintain the system. It also limits accessibility.
Cloud accounting ERP software, on the other hand, requires no heavy investment in hardware or support teams, and it is easily accessible on the go. Many companies provide mobile apps to enable users of cloud ERP software to log in from anywhere. It\'s ideal for companies with multiple locations, such as manufacturers with warehouses and distribution centers, or manufacturers seeking supply chain visibility. Cloud-based apps ensure that whether you\'re in the warehouse or at your desk, you can easily log into the accounting system to update billing, check invoices, and more.
While there\'s no one-size-fits-all when choosing the right ERP system for small to mid-sized manufacturing companies, cloud ERP systems offer an excellent and affordable way to manage finances and accounting without the costs and hassle of adding hardware, personnel, and more.
Mobile Apps for Cloud Accounting ERP Systems
You may wonder why ERP providers offer mobile apps. It's simple: customers demand them.
Over the past decade, as more companies offered apps and customers downloaded them, demand grew for the convenience and portability of apps in business settings. Pew Research reported in 2015 that 65% of Americans have a smartphone; today, that number is 97%.
Businesspeople rely upon their smartphones just as heavily as consumers do. They want the same portability and convenient access to the ERP as they have to their bank. For example, mobile apps for accounting ERP systems offer the same or comparable user experience.
Assessing ERPs with Apps Versus No App
Apps function similarly to their web-based counterparts, so you\'ll need to assess whether your company needs an app or a simpler cloud-based setup with web access would work equally as well.
Remember that web-based (cloud) and apps are not the same thing. A company may offer a web-based cloud ERP but lack an app to accompany it. That may or may not be a drawback for you. It depends on the convenience and frequency with which you'll access the ERP on a mobile device.
Choosing the Right Cloud ERP
Consider the following when assessing ERP solutions:
Accessibility: These ERP systems enable you to log into them from any internet-connected device. So, cloud ERP is an excellent choice if you work from home, travel frequently on business, or have employees working at different locations.
Customization: Customizable dashboards, such as those found in Acumatica cloud accounting software (ERP), ensure users have quick and easy access to the accounting tasks they use frequently.
Real-time data tracking: Most cloud ERP platforms update in or near real-time to ensure accurate and timely data.
Demonstrate consistent improvements: Some platforms update their software infrequently, while others, such as Acumatica, offer releases twice a year. Acumatica also bases many of its release updates on customer feedback, which helps build out areas customers use most often.
Cloud ERP Software: Flexible Modern Accounting
Only some people in your organization will download and use the ERP accounting app accompanying your accounting ERP software. But cloud-based ERPs with accompanying mobile apps offer many advantages for those who appreciate the one-tap convenience of logging into the accounting system.