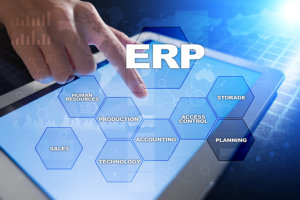 You may have read about cloud ERP for small business or heard about it from a colleague. Cloud ERP offers powerful financial, accounting, and analytic abilities that can help your small business grow.
What is a small business? According to the SBA, a small business has fewer than 500 employees. You interact with numerous small businesses daily. The store where you get your morning coffee and donut? A small business. The auto repair shop where you dropped your car off for service? Yes, a small business. So, too, is the manufacturing firm that provided the bakery ingredients to make the donuts, the company printing brochures for the auto repair shop, and every business you passed on your drive into town.
Each of these businesses uses technology in some form. The donut shop may use automated ovens or fryers to cook their donuts to perfection; likewise, the auto repair shop has machines to check computer chips and sensors located inside cars to determine the source of problems and error codes.
Look beyond what you can see and even more technology powers small businesses today. The auto repair shop runs accounting software to track finances as well as spreadsheets to track its inventory of parts. The donut shop uses small business accounting software and a rudimentary CRM to send postcards announcing sales and specials to their customers.
As small businesses increase in size and complexity, the need for small business software increases, too. Cloud ERP for small business makes accounting packages and cumbersome spreadsheets a thing of the past. With cloud ERP, you can manage many aspects of your business effectively and efficiently.
Why Choose Cloud ERP for Small Business?
Cloud ERP for small business offers a streamlined method of tracking all aspects of your business. It takes away much of the guesswork and manual data entry from business processes.
ERP systems include accounting and financial software that enables you to pay bills, track assets, monitor invoices, and examine profitability throughout all areas of your business. Cloud ERP for small businesses and manufacturing, distribution, and e-commerce companies also add the ability to track inventory and monitor stock levels and shipping information. Features such as CRM, HRMS, and other elements can be added over time to enhance the basic system and help you expand into new areas of automation. 
Which ERP Is Right for Me?
For a small business new to cloud ERP, choosing a system can seem overwhelming. The first step is to analyze your business needs now and think about what you may need in the future.
Many small businesses would do well to start with Acumatica cloud ERP, a proven small business ERP system that can expand over time as your business grows. It offers a powerful basic package of accounting, financial, and business analytics and tools that can be expanded to include sales, marketing, operations, and more.
Another strong contender is the Sage line of ERP products. Sage 100cloud ERP offers a rich array of features including core accounting and finance, CRM, business intelligence, manufacturing solutions, and much more.
Whether you choose Acumatica or Sage, cloud ERP for small businesses is one of the best technology solutions to monitor, track, and analyze all business functions within your company. To get started, speak with someone at Emerald TC today.
Cloud ERP for Small Businesses with Emerald TC
Emerald TC helps small businesses analyze their needs and choose the best ERP for their businesses. Contact us or call 678-456-6919 for more information about cloud-based ERP.