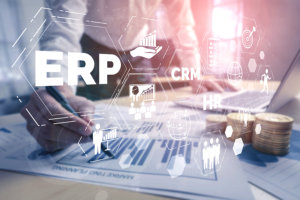 Cloud ERP software enables easy collaboration on almost any project. Because your team can log in anytime, anywhere, to the same system, and see the same information on the screen, they can collaborate easily over documents, data, and more.
As the world continues to grapple with the ramifications of the COVID-19 pandemic, one thing remains sure: remote work won't go away even when the much-hoped-for vaccine and treatments for the novel coronavirus arrive. Instead, many companies are finding, with the addition of technology such as cloud ERP software, their teams can continue to work flexibly without missing a beat.
Interesting in learning more? You can download a free eBook from Acumatica, The New State of Work: Business Resilience and Cloud ERP, about the new world of remote work and how cloud ERP helps ease the transition.
Real-Time Remote Access
Cloud ERP software can be used with any web browser. As long as you have an internet connection, you can log into your ERP system. This means real-time, remote access anytime or anywhere you're working.
With so many companies encouraging their employees to continue working from home, it makes sense to invest in software that facilitates easy remote working. Accountants can check and update receivables and payables. Sales and service teams can complete reports, log orders, check stock, and serve customers from home or while visiting clients. And managers have instant access to much-needed reports.
The amount of flexibility in cloud ERP software may inspire you to think of other ways in which it can help your company. It's easier for everyone to continue working from home (or the office!) when working from a cloud-based system.
Collaboration and Cooperation
Another benefit of cloud ERP systems is it fosters both collaboration and cooperation, two things all businesses can benefit from any time. When everyone feels like they're working on the same team and can access the same source data, they can collaborate much more easily on projects. Brainstorming, problem-solving, and sharing work is easier when everyone uses the same systems.
Software such as Acumatica Cloud ERP offers unlimited users, so your entire company can log into the system at once. Integration with Microsoft Office products, including Outlook and Teams, also helps build teamwork. These integrations allow you to share information, attend meetings, and collaborate effortlessly on projects.
Improved Data Security
One of the challenges that many companies face now that their employees are telecommuting is the need for increased cybersecurity. Poor cybersecurity can compromise computer systems, data, and passwords, and create a nightmare scenario for a business.
Cloud ERP systems offer multiple layers of security. Not only are passwords required to log into the system itself, but data is protected on cloud-hosted servers through multiple layers of protection as well as backups. Many cloud systems maintain servers in multiple countries so that data is saved on servers in various parts of the world. If a natural disaster strikes the region, data remains protected because it's backed up elsewhere.
Other security measures include data encryption to ensure confidential information is kept private, as well as permission-based access to various parts of the system. Limited roles and carefully defined user roles ensure only those who need access to sensitive data have that access.
Business Insights in Real-Time
Lastly, one of the most important benefits of cloud ERP is the real-time insights users find within the platform itself. Data from an ERP system updates frequently and syncs across the system while users are working, ensuring everyone sees the most up-to-date information. Cloud ERP provides vital information in real-time, ensuring time-sensitive decisions can be made promptly.
To learn more about Acumatica and how its cloud-based systems can help your business, contact Emerald TC at 678-456-6919 for more information.