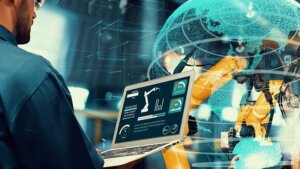 So, you're looking into cloud manufacturing software, but you aren't sure whether it's the right move. Among mid to large-sized companies, 50% have already or are going to adopt cloud software very soon, while among small businesses, that number stands at 30%.
If you haven't yet moved to cloud manufacturing software, now is a great time to explore your options. The following five benefits are among the top that many manufacturing companies share with us. You may find your benefits are different, but one thing remains true: your company will benefit greatly by moving to the cloud.
What Is Cloud Software?
Cloud software is software that runs on an interconnected network of servers (aka "the cloud"). These network servers are linked through the internet to offer outstanding performance, backups, security, and up-time. Cloud software is designed to run over such servers and to provide functionality to users through internet-enabled devices.
Top 5 Benefits of Cloud Manufacturing Software
For manufacturers, there are many benefits of using cloud software, but these five stand at the top of the list.
Anytime, anywhere access: Because cloud software runs over the internet, it can be accessed anytime and from anywhere. Salespeople who travel to customers' places of business can log into the system from their location and see the exact same information as the people working in your company offices. Data can be uploaded to the cloud almost instantly, providing up-to-the minute information to everyone working on a project, order, or account. Location is no longer a barrier with cloud software.
Scalable: Cloud software is highly scalable. Unlike site-based licenses, which are often granted based on a predetermined number of users or seats, cloud software easily flexes to accommodate changing numbers of users. As your company grows, it's easy to add people to the system. Plus, you won't get locked into a big license just to accommodate seasonal demand—you can easily add more access just when you need it.
Faster rollout: Another advantage of cloud ERP is the speed with which it can be rolled out. Yes, it will take some time for requirements gathering, system specifications, data gathering, and such, but the actual rollout and implementation of a cloud system is often much faster than an on-premises system. There's no special hardware to buy, so the system can be rolled out among the devices you already have. This shortens the time to rollout and reduces the expense.
Easy warehouse integration: Another great feature of cloud manufacturing software is the ease with which they connect to warehouse management and productivity software. Barcode scanners, warehouse management systems, and other software used to manage goods can be easily integrated with cloud manufacturing software. Many cloud software companies make it easy for third party firms to build software that connects through APIs, which also enhances your ability to configure the cloud system that's right for your needs.
Better reports: Accurate real-time reports are essential to manufacturers. Cloud manufacturing software provides the best reports possible on all phases of your business. Because data is collected real-time, the information generated from your reports is up to date with the latest metrics. You'll be able to see at a glance sales history, inventory, cash flow, and more with streamlined cloud-based reports.
Cloud Enterprise Resource Planning for Manufacturers
Cloud-based ERP systems for manufacturers also provide exceptional benefits. These systems enable you to track financial and accounting data, integrate the main system with inventory management software, and provide exceptional customer support. Whether you need to cost out a job or better manage your supply chain, cloud software for manufacturing that includes a robust ERP means you have the best tools at your disposal to improve your business.
Emerald TC
Emerald TC works with many types of manufacturing businesses. We can help you choose the right accounting software, ERP system, payroll, or other software for your needs. Contact us or call 678-456-6919 for more information.