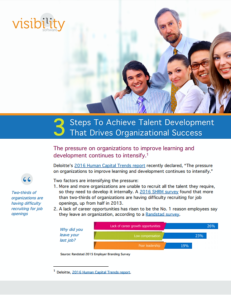 Talent development is critically important. These six specific benefits of effective talent development show why it's so critical for organizational success.
It builds your talent pipeline.
It helps you develop an effective career succession/career pathing process.
It improves succession planning.
It reduces turnover.
It improves employees' productivity.
It lowers recruiting costs.
Many companies struggle with talent development. Read this white paper, 3 Steps To Achieve Talent Development That Drives Organizational Success, to learn why effective talent development is so difficult to achieve and then learn three detailed steps for effective talent development. Just fill out the form below to receive your copy.