Acumatica implementation, or the process of installing a new enterprise resource planning (ERP) system for a company, requires the right team: an internal team that includes relevant stakeholders and executive sponsor(s) and a consultant who understands both your business requirements and the platform.
A good implementation also requires clear thinking about the project, and that's where myths and facts come into play.
Myths often develop because there are gaps in understanding. Perhaps the company hasn't shared why they are seeking an ERP, or maybe team members do not fully understand what an ERP does or the benefits it provides. Some may be invested in the existing accounting software or spreadsheets because they're comfortable with them; change is often uncomfortable and moving to a powerful ERP system can be daunting for some.
However, it is critical to be a "myth buster" when it comes to a successful Acumatica implementation. Buying into the myths can derail even the best planned project.
5 Acumatica Implementation Myths and Facts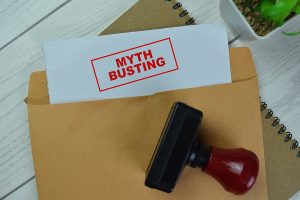 Myth #1: An ERP Is the Same as an Accounting System
Anyone who says that an accounting system is the same thing as an ERP is mistaken. Accounting is to ERP like the living room is to the entire house; it's part of it, but not the whole thing.
Accounting is only a small part of what an ERP does. An ERP such as Acumatica streamlines processes, ensures transparency and visibility, provides enhanced reporting, and with the right integrations, can also provide 360-degree visibility into the company's operations, finances, and accounting.
Myth #2: Only IT and Finance Need to Know About the Project
ERP systems impact every aspect of a business, including marketing, operations, finance, and accounting. Yes, the IT department plays a vital part in its installation and maintenance, and finance or accounting will use it heavily, but other stakeholders need to be part of the decision-making process and participate in discussions around its use, data inputs, reports, and more. An ERP is for everyone in the company, not just finance and accounting.
Myth #3: IT Should Lead the Selection Process
An ERP selection and implementation project requires the IT team's participation, but that doesn't mean they lead it. Instead, the system's eventual end-users should lead the selection process and guide the implementation, too.
Myth #4: Budgets Can't Be Changed
It's important to have a budget in mind when choosing your ERP system. However, after ERP selection, budgets may change as new work needs are uncovered. It's important to keep a budget range, rather than a fixed amount, in mind during the implementation phase.
Myth #5: Customization Is Unnecessary
ERP system customization is actually the norm, rather than the exception. First, systems often need to be customized to solve unique business needs. If you look through ERP success stories and case studies, you will often find that the base ERP is customized to accommodate a business' process or special requirements.
Additionally, many users prefer customized dashboards. Acumatica enables users to customize their dashboards. For example, placing frequently used links on the home page of the dashboard or quick access links to commonly run reports saves users a great deal of time.
Acumatica Implementation
Acumatica is a cloud-based ERP software solution that allows you to centralize and take control of your business data. It can connect every aspect of your business, streamline your operations, and automate manual processes, all of which increase your efficiency and profitability. To learn more about how Acumatica drives manufacturing growth, download our free eBook here. The experts at Emerald TC are ready to help you implement, customize, and support your Acumatica ERP. Contact us today to get started.