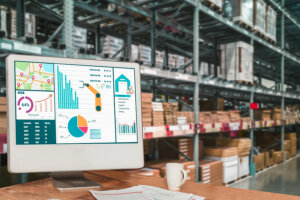 The right ERP distribution software can make a big impact in your business. It can help you improve efficiency, automate business processes, and reduce costs. Here's how adding Acumatica ERP distribution software to your business can help your business potentially grow beyond your projections.
Increase Sales
It's a truism that to increase profits, you must either increase sales while keeping expenses constant (or reducing them) or decreasing expenses while keeping sales constant (or growing them). So how can a distribution business increase its sales, and how does ERP distribution software help?
With razor-thin margins and tight competition making it harder and harder to increase sales, it's important to have the best tools in place. That includes distribution software. Acumatica's distribution edition enables you to market more efficiently to your existing customers through a customer relationship management (CRM) system. It also includes features such as connected commerce and point of sales systems so you can manage all points of contact and sales from one central location.
Improve Supply Chain Management and Warehouse Replenishment
Another area of focus for many distributors is supply chain management and warehouse replenishment. It's one thing to get sales orders in, but quite another thing to be unable to fulfill them. With improved supply chain management support from your ERP distribution software, you'll be able to avoid stock outs, find vendors to help you fulfill supply chain needs, and ensure timely warehouse replenishment.
Automate Transactions with Cutting-Edge Software
Use every advantage you can get to boost your business. That includes automation, which greatly streamlines and speeds up many common warehouse and distribution center processes, and software that helps you add wave and batch picking as well as better stock control.
Automation using barcode scanners helps track inventory carefully, so that every time it is moved, you can automatically document the new location without the need to manually adjust the system. Wave and batch picking shaves time and effort off picking crews, and also helps you improve productivity.
Cutting-edge software offers a strong competitive advantage. In the distribution model, with its tight margins, advantage helps.
Better Customer Service
Take an honest look at your customer service. Did you know ERP distribution software can help you improve your customer service? Real-time information on order and stock status ensures that customers aren't left guessing where their order is in the shipping process. Fewer stock outs mean fewer angry customers who are left searching for a new vendor for their supplies. These little improvements add up to a big boost in customer service and satisfaction, which in turn can lead to repeat business from your best customers. It always costs less to handle a repeat order from a customer than to win new customer orders. Maximize your existing customer base by improving customer service throughout your business.
Ready for More Tips? Download This Free Guide
We're offering a free guide from Acumatica, 7 Ways Distributors Grow with Acumatica, for even more tips.
Make Growth as Painless as Possible with Acumatica
Manufacturers and distribution centers all agree: Acumatica ERP helps their business grow. It's ease of use, adaptability and openness to third-party applications, cloud or site-based features, and convenient licensing model all make Acumatica a valuable ERP system. Explore your options with Acumatica or use your current system more effectively by taking advantage of our training videos, tips and tricks.