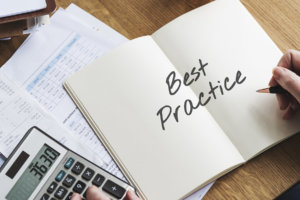 You've implemented lean manufacturing, but have you implemented accounting best practices? Accounting best practices complement lean manufacturing and other steps to improve productivity. Improving accounting processes can go a long way toward helping your company remain flexible and profitable in the months to come. These five best practices help build a strong financial base for any manufacturing firm.
Accounting Best Practices for Manufacturing Companies
Run several "what if" business scenarios.
Many accounting programs enable you to run one or more "what if" scenarios. It's essential to build and test three or more such scenarios to improve the planning process. Such scenarios can also help you adjust your company's responses to various situations that may arise. For example, compare and contrast what-if scenarios, including rapid recovery from the pandemic versus long-term disruption. Depending on the outcome of these scenarios, you can create operating plans with goals and outcomes that guide various departments. As they progress toward goals, you'll be able to shift and adjust budgets and other factors as the final scenario becomes clear.
Maintain steady gross margins and don't discount.
If sales have slumped, it's tempting to drop prices to achieve sales goals. Slashing prices hurts gross margins and doesn't help long-term sales. Instead, consider sacrificing volume for margin where it makes sense. The business volume will eventually pick back up; if margins are cut too soon, they may not return to optimal levels. Customers become accustomed to lower prices all too soon and balk at a return to standard prices. It's better to hold prices steady than to temporarily lower them.
Instead of putting all of the company's savings into the bottom line, consider identifying strategic investments in business lines that may rebound when the economy recovers. For example, technology upgrades may go a long way toward supporting a robust business throughout economic downturns and recoveries. It's an investment in the entire enterprise that enhances all areas of the company. Marketing, new inventory management software, and staff training may also be suitable investments depending on your business' needs.
Implement new best practices.
Many accounting departments adopted weekly cash flow forecasts to adapt to a rapidly changing marketplace during the pandemic. Some were surprised to find this enabled them to be more flexible in their response to business conditions. If you find such a change helpful, keep it. Record all the new processes put in place to manage the pandemic and consider optimizing and operationalizing them into ongoing best practices. Weekly collections, accounts receivable aging, and cash forecast reviews that will let you see trends earlier and react before there is a cash issue may all be new best practices.
Embrace and fast-track digital transformation.
By now, your company has probably embraced many aspects of digital transformation. This includes cloud-based software such as cloud ERP. If you haven't implemented similar systems, it's time to get moving. Forecasting, establishing KPIs, running quotations, managing invoicing, and payroll is all much easier with the right software.
Accounting Best Practices Are Integral to Good Manufacturing
Good manufacturing relies upon a reliable supply chain, but it also depends upon accounting best practices. With the right accounting practices in place, your cash flow remains stable, and you're able to invest where it counts: in your business.
Emerald TC
Emerald TC provides software and consulting for manufacturing companies. We can help you choose the right ERP system for your needs and offer Sage, Acumatica, and other software packages for every type and size manufacturing company. Contact us or call 678-456-6919 for more information.