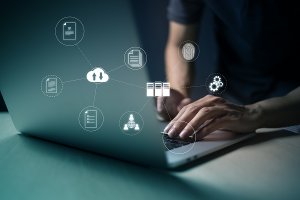 There are many cloud ERP benefits, but the following five are among the most frequently cited reasons why manufacturers choose cloud ERP systems. Although some companies still prefer on-premises ERP systems, many more are embracing the benefits of cloud ERP. Cloud ERP offers exceptional flexibility, and many systems can be adapted to a manufacturer's business so that it enhances and supports the company's business goals.
Cloud ERP Benefits: Adaptable and Flexible
By now you are probably familiar with the many benefits of cloud-based systems. From cloud productivity software to ERP systems, these platforms enable anytime, anywhere access from internet-connected devices. Users can access and view the system from any location with similar experiences so they can work at the office, from home, or while traveling on business.
Easily Integrates with Other Software
Among the many cloud ERP benefits, one that some users find particularly helpful is its ability to integrate with other software platforms. APIs enable programs to "speak" with one another, ensuring that multiple systems can connect and cooperate.
Companies who felt restricted by out-of-the-box accounting software often find that cloud ERP opens many possibilities because of its ability to integrate with other software. For example, a manufacturer running a cloud ERP system can add warehouse and inventory software to their basic ERP package, ensuring that they can keep a close eye on stock levels. Additionally, e-commerce platforms can integrate with ERP systems, ensuring that customer order data is also found in the ERP. Such improved data visibility from integrated systems is an exceptional cloud ERP benefit.
Add Users as Needed
Many cloud ERP packages offer flexible user licensing models, too. It's much easier to add users to a cloud system than some on-premises systems. Some models charge by the user while others charge by the usage, and it does not matter how many users access the system. This flexibility ensures you don't pay extra for licenses you don't need, and your employees can access the system as needed to perform their job duties.
Customizable Dashboards
Among the many cloud ERP benefits, one that is often overlooked is the ability to customize dashboards. System dashboards are where users interact with the ERP platform the most frequently. Being able to customize the dashboard can save users a lot of time. Moving items to the dashboard that are used often enables users to shorten the number of clicks to get to the information they need. It is a great time-saver to find the information you need every day right on the dashboard.
Improved Security
A discussion of cloud ERP benefits wouldn't be complete without mentioning the improved security that cloud computing offers. Cloud systems rely on networks of servers, and such networks often feature better cyber security than companies can put into place on their own machines. The added benefit of redundant systems, where backups are kept on multiple machines, as well as keeping such backups in multiple locations by the cloud hosting company also secures data from many types of misfortunes. Cloud systems often include the ability for system administrators to set access parameters per user, which is also helpful to ensure good security around sensitive data.
Plenty of Benefits and Few Drawbacks to Cloud ERP
There are many benefits to adopting a cloud-based ERP system. Whether you choose Sage or Acumatica, cloud ERP offers exceptional data visibility, improved efficiency, and enhanced security. If upgrading systems and software is on your to-do list, it's time consider cloud ERP.
Contact Emerald TC for Cloud ERP Assistance
We're here to help with your ERP questions. We can help you with an ERP system upgrade or a new ERP implementation. Contact us at (678) 456-6919.