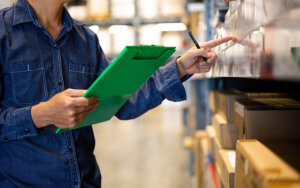 Over the past several years, we've seen inventory control problems become the topic of family conversations as well as business conversations. Supply chain problems affected everyone. Even the family cat was affected as a can shortage continues to make certain varieties of cat food difficult to find on store shelves. (Finicky cat owners, beware—and stock up!)
There are many reasons why inventory control remains problematic for businesses. The following five inventory control problems are quite common. We provide both a look at the typical problem underlying the inventory control issue and the potential solution.
Be sure to download our free whitepaper, Four Strategies to Smarter Inventory Control, for even more helpful information.
Five Inventory Control Problems
Inventory control problems generally fall into two categories:
Stock problems
Staff problems
Stock problems are those that affect managing inventory items: picking and packing, inventory management, and so on. Staff problems include training, orientation, and safety.
These five inventory control problems span both categories.
Stock Problems
Problem: Supply chain complexity
Supply chain complexity is what leads to things like a lack of canned cat food and stores that ran out of 5-pound bags of flour during the pandemic.
Supply chains are indeed complex, with materials like cans coming from different places than the raw materials that go into them. Without the right packaging materials and raw materials, production can grind to a halt. Hence the lack of canned cat food on the shelves at the local big box stores.
Manufacturers must also be able to adapt to changing supply chain demands. During the pandemic, restaurants shut down, leading to lower demands from the wholesale industry and higher demands from retailers. Flour manufacturers struggled to make the change over. Their packaging equipment was either/or, distributing flour into large restaurant and bakery-sized bags (50 pounds of more) or smaller retail packages (5 pounds.) Only those manufacturers that were able to adapt their equipment to transfer production of 50-pound flour bags into smaller 5-pound bags were able to fulfill orders quickly enough to meet the ever-fluid supply chain demands.
Adaptability and transparency are the key to solving supply chain issues. Although supply chain complexity isn't something you can solve on your own, you can handle it better with the right software and information.
Challenging stock
Some stock is more challenging to manage than others. Items that must be kept refrigerated or stored at a particular temperature, caustic, or potentially flammable items, or those with an expiration date are all more difficult to manage in your warehouse than items that can be stored at any temperature for almost any duration.
Companies handling food items, chemicals, and ingredients will find their warehouse management needs differ greatly from those handling nonperishable items.
Inventory management
Almost all companies struggle with good inventory management practices. Many still resort to manual stock-taking. Consider adding a barcode scanner to your warehouse management system to make stock taking faster, easier, and less prone to mistakes.
Also consider the inventory method you're using. Do you conduct annual or biannual inventory? Or do you manage your inventory on a rolling basis? Choose the best method for your business based on turnover, inventory size, and business need.
Staff Issues
Lack of experienced staff
Nationwide, many warehouses are experiencing a staffing shortage. This lack of experienced staff has led to hiring workers who may be unfamiliar with warehouse terminology, methodology, or software. Training takes more time, as inexperienced workers must learn the basics before they can be given harder tasks.
Communication challenges
Managers also struggle with communication issues. It's not just being heard, it's being understood. Potential challenges include language barriers, communicating information across several shift changes, and ensuring that everyone shares a common understanding of the tasks needed in the warehouse.
The Solution: Good Inventory Control Software
While not all problems can be solved by inventory control software, good inventory control software can go a long way toward helping you communicate with suppliers and vendors, manage stock rotation more efficiently, and ensure accurate stock counts. It can also shorten the ramp up period for new team members by making it easy for even the most inexperienced staff to keep accurate stock counts. And lastly, if it is a cloud-based system, it can share information in real time with the ERP system and ensure good communications throughout the warehouse.
Ready to explore inventory control software? Emerald TC recommends Acumatica WMS for better warehouse management and Scanco barcode scanning software for faster, better, and more efficient warehouse and inventory management. Explore more software on our site.
Emerald TC
Emerald TC provides software and consulting for companies seeking to improve their productivity and solve common business problems. We can help you choose the right accounting software, ERP system, payroll, or other software for your needs. Contact us or call 678-456-6919 for more information.