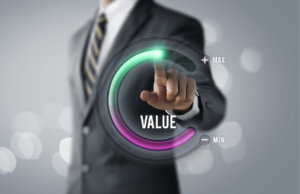 Did you know that you can get even greater value from your ERP system through its data and analytics capabilities?
Most ERP systems such as Sage 100cloud collect copious amounts of data. Built into the system are analytic capabilities and reports that transform that data into valuable information ready for your team to use to make decisions. Data from an ERP system provides a powerful framework upon which to build business strategies and plans.
Focus on These Five Points for Enhanced Profitability
Data alone, of course, cannot boost profitability. It's all in how you use it. CFOs must take into consideration the following five points to derive additional profitability from the ERP system.
Ask insightful questions. Metrics such as gross sales, customer retention rates, and net revenue are purely descriptive. The ERP system can unearth greater insights. For example, ask what drives customers' decisions to purchase or not purchase your products. Which are your most cost-effective vendors? How quickly does a customer purchase a product after a promotion? These questions enable you to align various data points within the ERP system and glean insights that can transform how your business performs.
Find the right data. The fact that ERP systems provide abundant data may seem overwhelming. In fact, it's often the case of feeling inundated with data rather than searching for it that leads to "analysis paralysis" or the inability to decide which data elements to use. If you're seeking meaningful patterns in data to use for decision making, you must narrow your focus. For example, to identify operational inefficiencies, you'll need different data sets than those needed to assess customer wants and needs.
Use the right tools for the job. In manufacturing, using the right tools for the job is critical. The same goes for data; you need the right tools to utilize it. Simple calculations may be completed in-house but analyzing complex data patterns and integrating different systems' worth of data may be too difficult for your data team. Consider outsourcing complicated data analysis projects as needed and when it makes financial sense to do so.
Reach beyond descriptive analysis. Viewing the data from your ERP system may help you find patterns in the data. Look beyond the descriptive analysis and seek the underlying cause for each pattern. Why are you seeing these patterns? Data-savvy professionals can uncover key insights to inform business decisions that boost the company's bottom line.
Choose a strategic direction. Once you've analyzed the data, looked for root causes in the patterns, and done all the digging you can on your own, the true test of leadership arises in making changes. Choosing a new strategic direction to embrace and setting forth a course of action takes determination, persuasion, and skill. You must evaluate which course provides the most profitable impact for your business and analyze both the risks and rewards of each potential strategy.
ERP Systems: Offering More Than Data
ERP systems blend powerful data and analytic capabilities into their systems. Integration with other software packages makes them even more useful to manufacturing companies. To get the most out of your ERP, you need to look beyond the data to the questions and patterns underlying the data. Doing this can lead to profitable insights that change how you view and use data.
For a free consultation, call Emerald TC. Emerald TC is an Atlanta-based consulting organization that offers Acumatica, Sage 100cloud, and other solutions to help small and mid-sized businesses improve their productivity and efficiency. Please contact us or call 770.377.8334.