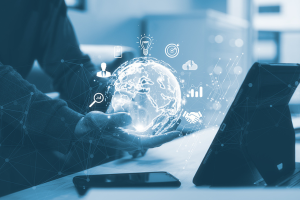 To succeed in today's complex, competitive environment, businesses must continually grow, change, and innovate. In other words, they must evolve. What worked yesterday may not work tomorrow, and you and your business need to be prepared to change course when needed. In addition, company growth makes it easier for you to gain resources, locate new sales opportunities, acquire new customers, and expand the range of your products and services.
One important way modern businesses must evolve is by embracing the latest business technologies. A good place to start is an intelligent business ERP solution. ERP software connects every part of your business, from manufacturing to accounting and sales to human resources. Every employee has access to accurate, real-time data they need to do their job well. By enabling everyone to work with the same information and towards the same goals, a modern business ERP supports vital business evolution.
How Acumatica Business ERP Can Help
Acumatica, an award-winning cloud-based business ERP, is built on a cloud platform designed to unlock the potential of any business. It incorporates the best cloud and mobile technology available and uses artificial intelligence and machine learning behind the scenes to automate organizational processes and power strategic decision-making. With native mobility and an open architecture that allows for rapid integrations, Acumatica is an agile platform that enables a connected enterprise.
Acumatica is flexible enough to evolve with you as your business expands into new markets, upgrades its production capacity, or adds new manufacturing methods. Acumatica can support multi-modal manufacturing, real-time data reports, and customer relationship management software. Through customizations, it can integrate with your e-commerce or document management solution. It truly is a "one-stop shop" for your business needs.
Acumatica Evolves, Too
It's not just Acumatica customers that evolve: Acumatica itself continually releases updates to the ERP to best serve customers. The most recent release, 2023 R1, includes many capabilities that allow organizations to become more efficient, which allows them to spend valuable time on higher-value activities. Here are some of the new features in this release:
Streamline global operations by retrieving values in any language
Automate AP processes through exporting enhancements
Save payment processing time by creating batch payments
Send emails without leaving Acumatica through a Gmail integration
Analyze your pipeline's performance and identify growth opportunities thorough out-of-the-box opportunity summary reports
One of Acumatica's highest values is customer-driven innovation: All these changes (and many more) are based on customer feedback. Through this customer-driven model, Acumatica ensures that their customers continue to enjoy the most intelligent, intuitive, and innovative business management technology available.
A Solid Business ERP Foundation to Build On
Remember, when you plan for your business evolution, set specific, measurable goals and KPIs for different areas of your company. With Acumatica, you can even create data dashboards that will provide insight into your progress towards these goals in real-time.
Once your company has streamlined its processes, connected its departments, and enabled visibility into all parts of the business, growth will come much more easily. You will free up time and money to spend on other growth opportunities such as upgrading products, diversifying offerings, expanding to new locations, or forging new partnerships. As you grow, Acumatica will be growing right along with you.
Want to Learn More?
EmeraldTC is here to help your business evolve and reach its business goals. We provide top-of-the-line business ERP software solutions, consulting, and support for the next step in your company's journey. If you want to learn more about Acumatica as well as how our experts can partner with your business, contact us today.