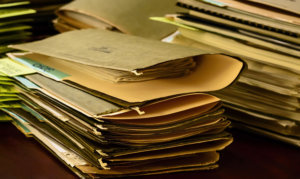 Have you considered a paperless audit? A typical business audit involves copious amounts of paper—and the time to find and organize. A paperless audit uses technology such as DocLink from Altec to scan documents into your system. Once in your computer system, these documents can be easily sorted, stored, tagged, and retrieved. It makes preparing for an audit so much easier!
A Typical Audit Is Time Consuming
Many companies have their books audited by an independent auditing firm annually. Some do so more often. In any event, preparing for external auditors takes time. Staff may have to put aside their work to help find and prepare documents for the auditors. What if they can't find all of the paperwork in time for the auditors' arrival? It can create a lot of stress as well as overtime hours to prep for an audit.
How Does a Paperless Audit Work?
A paperless audit begins by storing important business documents in a computerized system such as DocLink from Altec. DocLink enables you to capture both internal and externally generated documents. These documents can then be retrieved, viewed, shared, and annotated instantly.
When it comes time for an audit, documents stored on DocLink have a clear history of who created and edited them. Documents can be signed automatically via the computer, and a record of who reviewed and signed documents is stored electronically. All information pertaining to the documents is in one place, not scattered through various files or on sticky notes (that can fall off paper documents!)
Money-Saving Paperless Audit
A typical audit may involve one or more auditors on site for several days. One company found that a paperless audit saved them considerable money by shortening the time it took the auditors to work on site.
The company conducted a full audit annually. Their auditing firm arrived on a Monday and spent 1-2 days reviewing documents with two managers, organizing the papers, and ensuring everything was available to them. Then, they manually reviewed all the paper documents over the course of a week, sometimes bringing in additional personnel to add to the audit, as needed.
With a paperless audit, the necessary documents were retrieved in a short time, shaving a full day off the audit schedule. The auditors didn't have many questions and what questions they did have were answered by the notes on the documents. When an auditor had a conflict in his schedule, he didn't have to reschedule to be on site at the company. Instead, he could access the documents online and review them from his office in between other meetings. No additional auditors were needed because the paperless documents were so easy to find, manage, and review.
The paperless audit saved them several days' work on the auditors' invoice and kept costs lower for the company. It saved them time and effort and provided a clear, transparent view into how the company maintained compliance.
Are You Ready to Go Paperless?
With tax time rapidly approaching, many companies wonder if there's an easier way to conduct an annual audit. DocLink from Altec streamlines the workflow and provides instant access to information. It's a great way to take the sting out of audit time. To learn more, contact Emerald TC: 678-456-6919.