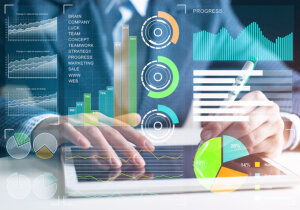 Cash flow management is both an art and a science. The definition of cash flow management is the management of money, especially cash, into and out of a business, to ensure adequate cash on hand to pay the bills. In reality, it's more of a juggling act than a management task most days. Managing credit terms, determining payment methods, and estimating cash needs is truly an art that senior accountants have mastered through many years of diligent practice.
Given that cash flow management is critical for the smooth operation of many businesses, any software that promises to improve it sounds wonderful. Business intelligence, or the art of utilizing data to create actionable insights, offers accountants another useful tool for cash flow management. Here's how BI can improve your company's cash flow management.
What Is Business Intelligence?
Business intelligence helps companies analyze past and present data to make better decisions. The insights uncovered through business intelligence can be used to enhance strategic decision making, marketing, product development, and more.
Managing Cash Flow Management with Business Intelligence
Accountants typically conduct cash flow management at the end of each quarter to ensure all the company's expenses are accounted for. Business intelligence software, added to your company's enterprise resource planning (ERP) or accounting package, provides added insight and data. With BI, your cash flow management can improve in many ways.
Improve Accounts Receivable Tracking
In the US, 13% of payments made to small and medium-sized businesses (SMBs) are late, according to a Sage study. Consequently, more than 30% of U.S. SMBs experience adverse effects on company investment and their ability to pay suppliers and provide bonuses to employees. Late payments negatively impact cash flow across the board, making small businesses struggle needlessly.
Business intelligence makes it easier to see at a glance which invoices remain open, and which have been paid. You'll be able to track payments, monitor late payments, automate reminder messages, and more. It's a great timer-saver as well as an additional way to ease cash flow problems by making it easier to get paid on time, every time.
Manage Payables Effectively
On the opposite side of the cash flow equation is the ability to manage accounts payable. Money must come in, but it must also be paid out to vendors. A good accounting business intelligence system makes it easy to monitor and pay vendors. You can see at a glance what you owe and to whom, and when that payment is due.
Understanding what money is owed can help you plan for the next month's expenses more effectively. When you have clear, reliable data, you can make better decisions in many areas of your company's business endeavors.
Negotiate Payment Terms
For some, no matter how carefully they manage their cash flow, there are still times of struggle. Fortunately, with business intelligence and cash flow management, you'll be able to take proactive steps to connect with creditors and negotiate terms before bills come down to the due date.
Most creditors are more than willing to work out terms with companies willing to come to the table with an offer. If you have business intelligence data, you'll be able to look ahead more easily and determine when cash flows may be better, and when you can pay the creditor. With this information in hand, it's easier to negotiate better terms and solve cash flow problems.
Explore Your Software Options
With so many options for accounting software, which one should you choose? Emerald TC offers on-site and cloud-based accounting systems for multiple business needs. Start your search by reviewing our more popular software choices online: Sage and Acumatica. Then, contact us with your questions.
Emerald TC provides software and consulting for manufacturing companies. We can help you choose the right accounting software, ERP system, payroll, or other software for your needs. Contact us or call 678-456-6919 for more information.