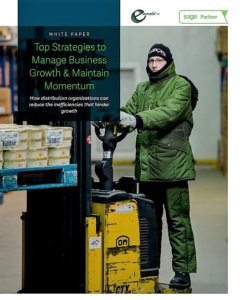 As a distributor, you rely on distribution accounting software and other tools to help you deliver goods to customers quickly and efficiently. Integrated distribution software is often the key to assisting distributors to achieve their goals. If you've been "just getting by" with software that requires manual data imports to get it to work with your warehouse management system, it may be time to review and update your software.
Distribution accounting software that integrates with warehouse management systems is no longer a nice-to-have tool but a must-have if you hope to meet your growth objectives. The more customers you serve, the more you'll rely on technology to help you manage orders, warehouse functions, payables, and receivables. It starts with integrated distribution software.
The High Cost of Not Updating Distribution Accounting Software
There are pros and cons to every decision. That includes the decision to update distribution accounting software. If you fail to update your systems and continue using disconnected WMS and distribution accounting software, the costs can be considerable.
Aberdeen recently conducted a study comparing distributors who had updated their systems compared to those who did not. They found that among distributors with integrated systems, those who used the latest integrated software experienced:
10 or fewer days sales outstanding in receivables
91% complete and on-time delivery
92% inventory accuracy
96% accuracy of financial reports
93% customer satisfaction
Across all areas in the survey, those with integrated distribution accounting software fared better than those without it or those running older systems. If you want your distribution business to grow, investing in integrated accounting and warehouse software makes sense.
Following Best-Class Examples
If you want to be the best, look to the best and mirror what they're doing. Aberdeen examined the "best in class" distributors and found that these productive and fast-growing companies all used specific strategies to achieve their KPIs.
Among their strategies, Aberdeen found that profitable distribution companies focused on:
On-time delivery to customers
Measuring and improving productivity over time, typically over two years
Improving profitability, measuring it over two years
Distributors who achieved the highest level of growth focused on efficiency and productivity throughout all areas of their company. Many of these companies standardized their processes, changing only what was necessary to improve efficiency. Other important steps they took to become more profitable included getting the most out of their investments in machinery and technology, and involving employees in the planning process.
Getting the Most From Your Technology
If you aren't using warehouse management and integrated distribution accounting software, it's time to explore updating your systems. Data collected and analyzed through an integrated accounting and warehouse system provides a comprehensive picture of all areas of your operation. Information from code readers, barcode scanners, and other warehouse technologies can be used to reduce mis-picks and errors. The more mistakes you can avoid, the better the customer experience, which will lead to satisfied customers, fewer returns, and more repeat business.
Improve Your Distribution Business: Download a Free White Paper
Top Strategies to Improve Business Growth and Maintain Momentum is a new, free white paper available from Sage 100 and Emerald TC. In it, you'll find more information on the Aberdeen research cited in this article, plus plenty of strategies you can enact now to improve your distribution business.
Business growth begins with the smart collection and use of data but, to collect and use data, you need the right systems and technology. Emerald TC is an authorized Sage reseller and provides consulting, software, training, and support for the implementation of accounting and warehouse systems for distributors. Contact us or call 678-456-6919 for more information.