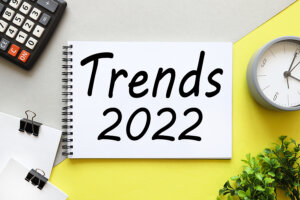 The ERP trends for 2022 are an extension of small business trends that have been brewing for several years now. The pandemic forced many of these trends into fast motion, gathering momentum as the business world forced many shifts to unfold faster than normal. In response to the changing business landscape, systems such as ERP are changing, too. Here are the ERP trends for 2022 and how they're stacking up against the small business trends that are fueling them.
Mobile Workforce and Cloud ERP
Telecommuting was the dream of many office workers and the nightmare of many companies until the pandemic made it a necessity. Now, companies are starting to get what workers knew all along; you can still be productive from your kitchen table, in comfy elastic-waist pants, and without the cubicle space. Telecommuting and a mobile workforce are here to stay.
Fortunately, among ERP trends, this is the convergence of two good things at once, like peanut butter and chocolate. The telecommuting workforce and the mobile workforce aren't very different from one another. Both need connectivity to systems and data wherever and however they work. And for that, cloud ERP has it covered.
Cloud ERP systems connect through any internet-enabled device, enabling instant data uploads and ensuring data is shared in real time throughout the system. So, whether you're a road warrior visiting customers throughout the southeast or a mom who needs to work from home to care for a sick child, cloud ERP has you and your employees covered. It's a trend that continues to grow, and one that's likely to continue in 2022.
Customer-Focused Marketing
Another major trend in small business for 2022 is customer-focused marketing. By this we mean marketing based on customer preferences, needs, and desires. Instead of blasting the same message to all customers, customer-centric or customer-focused marketing uses data to send targeted, tailored messages.
ERP trends include aligning and integrating customer data into basic ERP systems. The use of integrated CRM and ERP ensures that no matter which channel customers are using to connect with your company, the response is measured and monitored, and the data flows back into the ERP.
E-Commerce Explosion
Not since the early days of the internet have we seen this explosion of e-commerce activity. Companies that swore they would never sell online are looking for e-commerce platforms.
Among ERP trends, e-commerce integration has also become very important as demand for seamless integration has grown. A good ERP system that integrates with e-commerce platforms, warehouse management systems, and more offers a robust supporting framework for all types of e-commerce transactions.
ERP: A Robust Business Framework
As the old year passes away and we head into the new, ERP trends continue to focus on cloud technology, integration, e-commerce, and similar topics. The use of data to drive decision making in small businesses continues, with more companies than ever before looking for ways to grow and expand. ERP offers a robust framework from which they can build their business.
What will the new year hold for you? Whether it's ERP trends or small business trends, we hope that it brings good luck and favorable conditions.
Emerald TC
Emerald TC provides software and consulting for manufacturing companies. We can help you choose the right accounting software, ERP system, payroll, or other software for your needs. Contact us or call 678-456-6919 for more information.