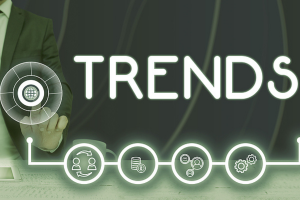 ERP Trends for 2023 include the continuation of the mobile workforce and cloud ERP, as well as enhancements to software to improve efficiencies.
As the pandemic abates, manufacturers must address the changing business landscape, increased global competition, and more. The ERP landscape is changing, too. Here are the ERP trends for 2023 and how the trends stack up against the small business trends that are shaping them.
Cloud ERP and the Remote, Mobile Workforce
The pandemic forced many companies to accept the need for remote work. Despite their misgivings, many continue to offer flexible work arrangements that include in-office days and telecommuting. Others have added telecommuting as a permanent work arrangement.
Among ERP trends for 2023, the need for cloud ERP to fuel a remote workforce remains. The telecommuting workforce and the mobile workforce aren't very different from one another. Both need connectivity to systems and data wherever and however they work. And for that, cloud ERP has it covered.
Cloud ERP systems connect through any internet-enabled device, enabling instant data uploads and ensuring data is shared in real-time throughout the system. So, whether you're a road warrior visiting customers throughout the southeast or a mom who needs to work from home to care for a sick child, cloud ERP has you and your employees covered. It's a trend that continues to grow, and one that's likely to continue in 2023.
Customer-Centric Marketing
Manufacturers take note: customer-centric marketing is here to stay. It began in 2022 and is likely to continue throughout 2023. Empowering customers to monitor and manage their orders, check on order status, and check stock status are all part of the trends shaping 2023.
Another major trend is marketing based on customer preferences, needs, and desires. Instead of sending the same message to all customers, customer-centric or customer-focused marketing uses data to send targeted, tailored messages.
ERP trends include aligning and integrating customer data into basic ERP systems. The use of integrated CRM and ERP ensures that no matter which channel customers are using to connect with your company, the response is measured and monitored, and the data flows back into the ERP.
The E-commerce Expansion Continues
The expansion into e-commerce continues with no sign of easing in 2023. Many business-to-business companies, including manufacturers, are expanding their e-commerce platforms through integration with other systems to enhance the customer experience. End-to-end order visibility, enhanced supply chain and order visibility, and more all add to the customer-centric focus that continues to be an important trend to watch for 2023.
ERP as Part of the Business Framework
As the old year passes away and we head into the new, ERP trends continue to focus on cloud technology, integration, e-commerce, and similar topics. The use of data to drive decision-making in small businesses continues, with more companies than ever before looking for ways to grow and expand. ERP offers a robust framework from which they can build their business.
What will the new year hold for you? Whether it's ERP trends or small business trends, we hope that it brings good luck and favorable conditions.
Emerald TC
Emerald TC provides software and consulting for manufacturing companies. We can help you choose the right accounting software, ERP system, payroll, or other software for your needs. Contact us or call 678-456-6919 for more information.