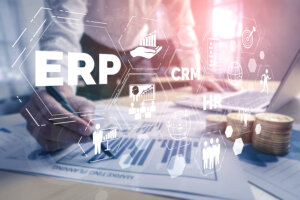 How do you know when it's time to upgrade your ERP and CRM systems?
There are many benefits your company receives when it implements both an ERP and CRM system.
According to a report by Panorama Consulting Solutions, ERP implementation led to business process improvements in 95% of companies. Another report indicates the top three benefits of ERP implementation are reduced process time, increased collaboration, and a centralized database.
When it comes to CRM systems, the results are also positive. For example, CRM systems also provided excellent ROI, with 74% of companies that implemented CRM systems experiencing improved customer relationships, 65% improved sales, and 50% improvement in efficiency.
Which benefit would you like to obtain this year? Do you want to increase sales, improve efficiency, and enhance communications? An ERP and CRM system can do this and more.
But, implementing both at once can be a daunting thought. How do you know when it is time to move ahead with a new ERP and CRM purchase?
Ask yourself the following five questions. If the answer is yes, then it's time to embrace ERP and CRM.
5 Questions to Determine if You Need an ERP and CRM System
Is your company spreadsheet happy? You know what I mean—anytime you ask for data, someone pipes up and says, "It's on a spreadsheet" or "It's in the sales report spreadsheet." For every question involving data, the answer is to see the spreadsheet. If you're tired of turning to spreadsheets to find out everything from monthly sales reports to customer contact information, it's time for an ERP and CRM system.
Do you have trouble finding information? A major drawback of using spreadsheets or separate systems to manage different departments' data is the fact that these systems do not interact with one another. Information may be contained in so many places that it's nearly impossible to consolidate and coordinate it. A combined ERP and CRM system can help you manage, find, and work with multiple data sources.
Do you know what progress your sales team has made this month? Always know what your sales team is doing when you have the right software in place. A CRM system that integrates with ERP can help you manage and improve customer contacts, sales channels, and more.
Are you handling customer complaints efficiently? Customer complaints are an opportunity to leave a positive, lasting impression. It depends, of course, on how efficient your company is at handling the situation. ERP software provides the information you need to resolve shipping queries, while a CRM system can track the record of interactions with a customer. This information when taken together can help your company handle customer inquiries and resolve complaints quickly and efficiently.
Can you run reports when you need them? Another reason your company may want to invest in an ERP and CRM system is the ease with which you can find, report, and review data. When all the information for a customer's account is kept in the same centralized database, you'll be able to run multiple reports without worrying about combining data or creating fresh tables and charts. Instead, the system can do it for you, saving countless hours creating data visualizations for various needs.
Depending on your answers, your needs may lean heavily towards a new ERP or a new CRM system. Upgrading either system can offer a big boost to your company's productivity, but upgrading both at once may save considerable time and effort.
Most ERP systems today, such as Sage, offer additional CRM modules built to work exclusively with their basic enterprise resource planning system. By adding both to your business software suite at the same time, you'll ensure that all aspects of your business, from basic business planning through customer service, are performing at an optimal level.
Emerald TC
Emerald TC provides software and consulting for manufacturing companies. We can help you choose the right ERP system for your needs and offer Sage and other software packages for every type and size manufacturing company. Contact us or call 678-456-6919 for more information.