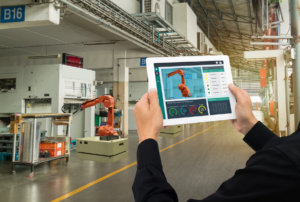 Is it time to make the switch from MRP to APS? What is this alphabet soup, anyway?
MRP stands for "manufacturing resource planning software" while APS stands for "advanced planning and scheduling software." Both sound similar but have different use cases and capabilities. To find and implement the best one for your business, you'll need to understand the nuances of each.
MRP: The Standard – Until Now
MRP is one of the oldest applications in the realm of manufacturing software. It was originally created in the 1960s to automate multiple key planning functions. It automates inventory control and production forecasting. Users can also gain some production insight into each manufacturing stage.
Manufacturing resource planning software covers each step of the manufacturing cycle, from production conception to inventory control, production forecasting, and planning. After a product is designed, the MRP system plans and sources the parts to complete the job.
MRP was revolutionary for its time because it could help manufacturers:
Determine on-hand inventory
Identify materials to procure
Compare lead time vs. production time for part ordering
Create Production forecasts to estimate the total project time
If your company creates high volumes of similar products or has a limited production line, MRP is a good resource for planning and sourcing. That's probably one of the reasons why it was the standard in the 1960s and late 20th century: most manufacturing at that time was mass production.
However, times have changed. Now, made to order, just in time, and other changes mean the product line constantly shifts, and customization demands may be more frequent than not. MRP struggles to handle frequent changes in planning or order quantities and can't keep up.
APS Starts Where MRP Stops
APS now picks up where MRP stops. With APS, you can adjust production schedules to fit a more realistic picture. Instead of large, mass-scale, single product production, APS can handle the realities of daily manufacturing today.
APS isn't meant to replace MRP. Instead, it augments and supports MRP. By adding APS, you can:
Factor in real-time production limitations
Model multiple production concepts for accurate planning projections
Account for lead times of ordered parts
Prioritize jobs by profitability level
The biggest benefit to using APS is in planning capacity. APS uses finite capacity models and sets each manufacturing job into the schedule in a pattern that optimizes every work center. So instead of creating a schedule based on standard lead times, APS actually analyzes the real workload and schedules around it. This creates better efficiency throughout the manufacturing plan.
Companies that have complex manufacturing processes, multiple changes in orders within normal lead times, or capacity issues all benefit from an APS' ability to build schedules around realistic and achievable plans.
Some manufacturers can continue using an MRP without a problem. For others who face frustrations from the limitations of MRP, adding an APS to your system enhances efficiency and may offer a noticeable improvement over your current processes. When it comes to manufacturing software, choosing what works to enhance workflows and efficiency is the name of the game and your route to higher profits.
Acumatica and APS
Acumatica 2019 R2 is out now, but Acumatica's earlier release this year includes new features and usability enhancements including additional APS capabilities. If you're using Acumatica or you've been researching ERP systems, Acumatica is an excellent choice for small to mid-sized manufacturers.
Emerald TC is a team of Sage Atlanta consultants offering Acumatica cloud ERP other products to help small and mid-sized businesses improve their productivity and efficiency. Please contact us or call 678-456-6919.