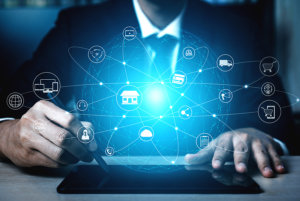 Multi-channel CRM leads to higher retention rates and increased customer satisfaction. According to one report, using a multi-channel solution increased customer retention by 89%. When you provide customers with multiple ways to order and communicate with your company, you improve the customer experience and increase the likelihood of new and repeat business.
Information Leads to Action
Companies can't act if they don't have timely and correct information. When customers' multi-channel behaviors are collected inside the CRM, you'll be able to track their preferred device usage, preferred communication channel, and whether they use mobile or desktop devices to access your website.
Information obtained by monitoring every customer touchpoint can provide vital insights for marketing, sales, operations, etc. If, for example, you know customers are using their mobile devices to access your site, you may wish to put money toward a new website that's mobile-first instead of responsive. Such small changes can lead to increased sales once you put data into action and use it to support marketing decisions.
Many Advantages of Multi-Channel CRM
A multi-channel CRM program can help you personalize the customer experience, giving your company the advantage of better customer service. An excellent multi-channel CRM is at the core of a reliable brand and marketing strategy. It's also an important tool to provide you with insight into customer behavior, product demand, and sales trends.
To support a robust multi-channel approach, you must have a good IT foundation. Acumatica ERP offers an excellent program for integrated multi-channel CRM. Their CRM system is built right into the ERP system from the start, which improves its functionality and ability to track, monitor, and report data in real-time.
With a CRM designed to manage multi-channel sellers, businesses can expect the following advantages:
Improved sales: Multi-channel CRMs offer automated marketing tools to recommend compatible items to buyers based on prior (or current) purchase history, such as recommending soap refills for dispensers and repeat purchase of cleaning supplies ordered several months ago.
Data and analytics: Purpose-built CRM systems enable you to collect, analyze, and synthesize data from multiple channels. The resulting data and analytics improve customer intelligence, product insights, and sales forecasting.
Expansion opportunities: Monitoring a multi-channel CRM system enables you to spot new and emerging trends. For example, you may spot opportunities to advertise in new markets or geographic areas. You can also track and monitor customer requests to spot emerging product trends or new demand for products.
Save time: Multi-channel selling can be hard work. It takes time and effort to ensure that SKUs and product information are identical across multiple platforms. Multi-channel CRM enables you to set such information in one central database and share it across various platforms. It's a great time saver!
Embrace the Digital Transformation
As we've seen over the past year, embracing the digital transformation throughout the business world and especially in manufacturing, is essential. More and more, companies are tasked with finding new and innovative ways to sell and serve customers online.
Adding a multi-channel CRM system enables you to take the digital transformation one step further. It allows you to leverage customer data and interactions, no matter where they occur, to improve sales and service. With it, you can spot trends that may lead to new markets, product innovations, and much more.
It's not a question of when but how. Now is the time to embrace multi-channel CRM. If you're ready to explore solutions or test-drive Acumatica, contact us today.
Emerald TC
Emerald TC provides software and consulting for manufacturing companies. We can help you choose the right ERP system for your needs and offer Sage, Acumatica, and other software packages for every type and size manufacturing company. Contact us or call 678-456-6919 for more information.