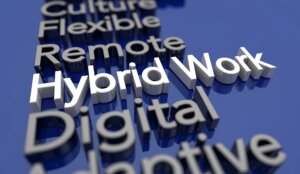 With 80% or more companies deciding to offer a hybrid work environment to their employees moving forward, employers need to be strategic and proactive about managing a hybrid workforce. One way to support your hybrid workforce is by adding a technology stack to your company that supports anytime, anywhere access to critical data and systems.
But there's more to supporting and managing a hybrid workforce than technology alone. The following tips can make it easier to move into this new world of virtual and in-person work.
Tips to Manage and Support a Hybrid Workforce
Set clear work hours: Ensure everyone knows when they can find colleagues at their desks by publishing a shared calendar of work hours. Knowing when someone can connect via "office hours" and feel confident they're not interrupting anything among employees working from home is helpful.
Communicate information clearly and frequently: If a hybrid workforce is new to your company, you may not be aware of some important distinctions in communicating to virtual employees as well as in-person employees. Information that is now conveyed via quick instant messages, emails, and video conferencing can be misinterpreted by virtual employees. In-person employees can meet with colleagues in person or drop by their desk to ask questions, but virtual employees may feel a barrier to doing that and need clarification on information that was shared. If you're aware of this issue, you can take proactive steps to mitigate the barriers caused by technology. Reach out with a phone call to employees to ensure understanding and to give them plenty of one-on-one time to ask any questions they may have.
Use technology to facilitate hybrid working arrangements: Technology that enhances a hybrid working arrangement ensures a seamless work environment to anyone in the company. This includes cloud-based office productivity suites, accounting and ERP systems, CRM and HRMS systems, and instant messaging systems that allow for spontaneous communication.
DocLink Offers Additional Support to a Hybrid Workforce
One great technology to consider adding is DocLink. DocLink enables companies to easily transform paper-based documents into searchable, sharable digital documents.
DocLink goes beyond the typical scanning technology to add layers of usability to digital documents. For example, DocLink creates a system for managing and automating documents. This includes minimizing human error by automating data entry, adding audit trails, and monitoring workflow status.
The software enables you to automatically capture and index documents with OCR, barcode, and XML imports. Any document can then be retrieved and viewed, printed, faxed, or archived. It can also be shared via email, which makes it easy for your office-based team to share it with telecommuting employees.
DocLink allows vendors to fax and email documents directly to you, saving considerable time and effort inputting information from external vendors. Documents can be automatically shared with designated recipients based on personal preferences, and access can be controlled with role-based security. Annotation features are included, and you can also view all changes to documents in the system.
Adding a hybrid work arrangement to your company makes sense as the pandemic continues. Enabling easy access to the same documents that your in-person team can view for telecommuting employees means solving a problem that may be causing inefficiencies in the work environment. DocLink integrates easily with many accounting and ERP programs, so if you need to add easier document management to your system, speak with Emerald TC today.
Emerald TC
Emerald TC provides software and consulting for manufacturing companies. We can help you choose the right accounting software, ERP system, payroll, or other software for your needs. Contact us or call 678-456-6919 for more information.