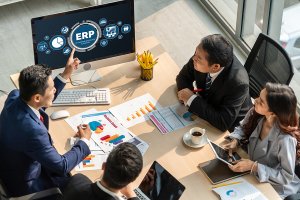 There are many good reasons to proceed with an ERP software upgrade. If your company is running an older system or perhaps not running an ERP at all, you could be at a significant competitive disadvantage.
To remain competitive in what has been dubbed the Fourth Industrial Revolution, manufacturers must invest in their company's digital transformation. The need has never been greater. Increasing global pressures, offshoring, supply chain bottlenecks, and labor shortages have all made the manufacturing landscape extremely challenging over the past several years. Many of these challenges can be overcome with the right technology.
An ERP platform replaces cumbersome spreadsheets and outdated, off-the-shelf accounting software. It provides exceptional insight into your company's data: operations, finance, and more. And, when integrated with other systems, offer unparalleled visibility.
Here's why this is the right time for an ERP software upgrade.
Enhanced Data Visibility
One of the main benefits of using an ERP system is the ability to access and use the data it collects and stores. ERP systems are excellent platforms for gathering data inputs from multiple points throughout an organization and enabling users to access it. The enhanced data visibility can be used for:
Financial analysis
Sales forecasting
Cross-team collaboration
Supply chain visibility
Inventory management
Staffing
Scheduling
More
While legacy ERP systems may provide some of this information, newer cloud-based systems provide almost instantaneous access to the data that's vital to your company's success. An ERP software upgrade may make a big difference to your company and provide it with exceptional data visibility that can help managers make smarter decisions.
Greater Efficiencies
ERP software upgrades may also improve efficiencies. Older systems may run fine but may lack the enhanced functionality of newer platforms. Automation, for example, may only be available in newer ERP systems. This time-saving feature can automate routine tasks such as running recurring reports. Other features that may enhance efficiency include machine learning and AI, which can learn which tasks a user performs frequently and anticipate them, for example, or improved search functions.
Enhanced Integration Capabilities
As more companies undergo digital transformation, their software ecosystems become increasingly complex. It's rare that companies run just one or two platforms; it's more likely they need an integrated system that includes a manufacturing ERP, warehouse and distribution software, payroll process, and perhaps other systems such as a CRM, paperless document handling, and more.
An ERP system upgrade can include these add-ons right from the start, ensuring immediate compatibility. During the consultation phase with an ERP implementation partner, you can discuss your project goals and needs and finalize a plan that includes additional software you may need for improved productivity.
As we have seen in many of our success stories, manufacturers often face complex challenges. The solution may include an ERP upgrade or an ERP system with additional capabilities and software packages. Modern ERP systems are often better suited to easy add-ons than older systems, and many ERP manufacturers offer suites that encompass the functionality needed by manufacturers.
Ready for an ERP Software Upgrade? Contact Emerald TC
We're here to help with your ERP questions. We can help you with an ERP system upgrade or a new ERP implementation. Contact us at (678) 456-6919.