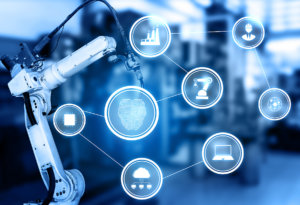 The right manufacturing software can help you change challenges into opportunities. With no end in sight to the coronavirus pandemic, manufacturers must use all the resources at their disposal to implement intelligent solutions to the challenges they face. The right manufacturing software makes it easier to transform challenges into opportunities and reinvigorate your business.
Want to learn more? We're offering a free white paper, 9 Ways Acumatica Helps Manufacturers Thrive in the New Digital Economy. In it, you'll find even more ideas to utilize manufacturing software to help your business thrive.
Five Ways to Use Manufacturing Software to Energize Your Business
Manufacturing software offers many benefits; but these five benefits, in particular, may be useful now to reinvigorate your business. If you've faced shortages, slowdowns, and lower revenue due to the pandemic, now is the time to infuse some energy into the business!
Benefit 1: Increased supply chain visibility
It can be frustrating to find items back-ordered or delayed. Relaying such delays to the end-customer is never pleasant, either. However, with the right manufacturing software, your team has increased supply chain visibility. Cloud-based manufacturing systems enable users to view inbound shipments and connected vendor systems to ascertain when items will arrive and provide more accurate shipping dates to end-customers. The resulting increased supply chain visibility helps you say "yes" to more orders with less worry and fewer out-of-stock notifications.
Benefit 2: Interconnected supply chains
It's not just knowing what's going on with your vendors but getting the "big picture" view throughout the supply chain that's essential. Acumatica offers unlimited site licenses so you can invite vendors, customers, and suppliers to connect and supply information. The result: robust interconnected supply chains that streamline ordering, shipping, and communications with customers.
Benefit 3: Faster order closing cycles
When using manufacturing software such as Acumatica, you'll experience faster closing cycles thanks to the helpful tools found in the software. The estimation process is faster, with fixed and variable costs available in the software and multiple order variations possible in the estimate process. Full opportunity cycle management offers the ability to manage orders from estimation through quote and closing. It's a seamless process that provides a faster, better way to close more business.
Benefit 4: Easier order management
Manufacturers who offer customization options often find that typical manufacturing software doesn't provide the flexibility they need to input customized orders correctly. Various shapes, sizes, materials, or colors can tax standard software. Acumatica offers a rule-based configuration that enables you to accurately estimate both materials costs and labor costs for customized orders. It makes order management much easier so you can close more orders, including customization requests.
Benefit 5: Improved customer service
One way to differentiate your manufacturing business from the competition is through enhanced customer service. Many companies complain that although companies provide good products, the service is lacking. You can make your business stand out from other manufacturers by earning a reputation for superb customer service. Manufacturing software that includes CRM, or customer relationship management software, enables you to track and manage customer issues throughout all communication channels. Another software application called Mobile Field Service provides fast, simple technician scheduling and dispatch to those working in the field. Customers appreciate prompt, courteous service, and knowledgeable staff. Improved service added to quality products and fast shipping can make a huge difference to your manufacturing business.
Software for the Digital Age
Manufacturing software offers better ways to manage orders, monitor supply chains, and communicate with customers and field staff. Be sure to learn about more benefits from using Acumatica manufacturing software with our free download, 9 Ways Acumatica Helps Manufacturers Thrive in the New Digital Economy.
Emerald TC
Emerald TC provides software and consulting for manufacturing companies. We can help you choose the right ERP system for your needs and offer Acumatica and other software packages for every type and size manufacturing company. Contact us or call 678-456-6919 for more information.