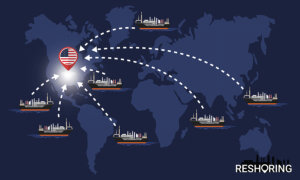 The last several years has brought numerous manufacturing trends to an abrupt, screeching halt. One such trend was the trend of globalization. Prior to 2020, it wasn't uncommon to find companies importing components from Asia, Europe, the Pacific Rim, and many other places into the United States to assemble finished goods.
With the global pandemic, natural disasters, strikes, and other situations disrupting the supply chain, many manufacturers are rethinking their former emphasis on global sourcing. This change from importing goods to finding suppliers and fabricators within the United States is called "reshoring." Let's take a look at how reshoring may impact your business and how ERP systems can help ease the transition.
Reshoring Reduces Risk
One of the biggest drivers in this new manufacturing trend is risk reduction. Companies have realized that a supply chain heavily reliant upon offshore vendors puts their orders at risk when anything disrupts commerce in other nations. From port strikes to pandemic outbreaks, the ripple effects are very real and can jeopardize customer relationships, order fulfillment, and more.
Reshoring Good for the Economy
Among manufacturing trends, reshoring is one trend that appears to have a positive effect upon the American economy. According to a Thomasnet survey, if manufacturers purchase just 10-12% more products from American makers, it will add $443 billion into the United States economy.
This amount of money flowing back into the United States economy is great news, especially for local communities near manufacturing hubs. Higher demand for goods means more job openings, and greater competition for existing jobs. Communities that were struggling with high unemployment numbers that welcome manufacturers into their midst may see an overall improvement in the local economy thanks to the overall change in manufacturing trends.
Challenges to Reshoring as a Manufacturing Trend
Although there are many benefits of reshoring, there are also challenges with this manufacturing trend.
Skills gap: Although the jobs may be available, that doesn't mean that job seekers have the skills needed for modern manufacturing positions. They may require further training in computer skills, for example, to use new, robotic manufacturing technology, or other training to improve their skills in order to fill the increasing number of positions.
Poorly optimized production costs: While manufacturers may save on shipping costs and lead time by using USA-based suppliers, production costs may be poorly optimized.
Uneven volume: Companies that rely on high-volume, low cost overseas suppliers may find it challenging to maintain the same volume with American manufacturers, at least at the beginning of the trend. Companies need time to increase production to meet increased demand.
Long-term contracts: Lastly, some companies with multi-year contracts with offshore suppliers may need time to renegotiate these contracts.
Acumatica ERP Helps With Reshoring Trend
Acumatica cloud ERP offers robust software that helps in many areas of business, but it can really shine when it comes to helping manufacturers weather the new reshoring trend.
Switching from offshore suppliers to onshore suppliers is made easier with Acumatica's supply chain management tools. The Distribution edition, for example, helps distributors manage their entire supply chain through one cloud-based software package. Acumatica's sales order management, inventory management, requisition management, and other tools provide a transparent view of all aspects of your supply chain. Acumatica users are much more likely to have an easier time of managing their supply chains than other ERP users thanks to Acumatica's robust tracking and reporting systems.
Although manufacturing trends come and go, we hope that this one stays. As with any changing trend, there is likely to be some disruption at first, but in the long run, adding more money back into the American economy helps both companies and local communities.
Emerald TC
Emerald TC provides software and consulting for manufacturing companies. We can help you choose the right accounting software, ERP system, payroll, or other software for your needs. Contact us or call 678-456-6919 for more information.