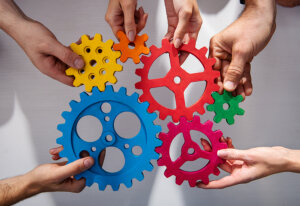 Sometimes your ERP needs more functionality than what is in the basic system. That's where Sage 100 add-ons and third party solutions enter in. There is a robust selection of add-on functionality available to Sage 100 users. We've worked with many of these and can help you get the Sage 100 functionality you need.
A solid ERP can transform how businesses operate and help managers improve productivity, efficiency, and profitability. But even the best system may need a bit of help now and then. Sage 100 add-ons enhance and augment the already strong base ERP systems by adding additional functions. The result is a system designed with your business in mind.
What Is a Third-Party App or Add-On?
As the name suggests, third-party apps or add-ons consist of software created by an independent company unrelated to the main ERP creator. Many are created to bridge a gap between the ERP maker and popular third-party software such as productivity suites and communication tools. Others are created to fill a business need that for whatever reason, the parent ERP company doesn't want to address.
Why Are Third-Party Add-Ons Important?
Some ERP sellers claim their system is all you need to manage your business. It may be all you need to collect data and analyze it, but each business is unique. This adds layers of complexity and different business needs to the system that can best be addressed through integrations and add-ons.
Some typical business needs that call for integrations and add-ons include:
Companies that rely on Excel to create spreadsheets, charts, and graphs: In this case, having a third-party software that connects your system to the ERP (such as Velixo) makes great sense and ensures live data is used in the system.
Companies with e-commerce units that need third party applications to integrate with major retail platforms such as Shopify, Magento, and others. By using third-party applications to connect their ERP with their e-commerce platform, these companies are better able to manage inventory, order fulfillment, and customer satisfaction.
Companies with special needs such as handling field service and dispatch, job estimates, and extensive supply chain management. APIs ensure they can communicate with their field team, estimate jobs, maintain records of estimates, and keep suppliers updated.
Companies that handle hard copy documents but need to route them to multiple people for signatures can utilize third party document management systems to ensure streamlined document approvals, routing, management, and storage.
All ERP systems are created with certain basic functions as part of their core package. All businesses, for example, need to track income and expenses. They need to manage payroll and accounting functions.
But as businesses diverge from the basic model of selling goods or services, their needs change. Third-party apps and integrations enable businesses to enjoy all the benefits of a great ERP system while also enhancing their ability to track, monitor, and manage functions unique to their industry and business needs.
Find Sage ERP Integrations
You Can Take It with You
Another great aspect of third-party applications is their portability. Companies who change ERP systems may be pleased to learn they can continue using their favorite office productivity software with the new ERP system thanks to a third-party API or integration.
Likewise, many third-party software creators ensure their apps can be used across multiple platforms. So, if you find a reporting tool you love, chances are good it may work with your new ERP.
If you are using multiple add-ons to get your Sage 100 system to meet your needs, you may want to consider switching to Acumatica. This ERP's robust set of modules can provide all you need without third-party apps.
And, if you love one of your Sage 100 add-ons such as Velixo, DataSelf, Altec, and others, they can be integrated with Acumatica as well.
Emerald TC
Emerald TC offers software for manufacturing automation, financial reporting, inventory tracking, and more. We can help you choose the right accounting software, ERP system, payroll, or other software for your needs. Contact us or call 678-456-6919 for more information.