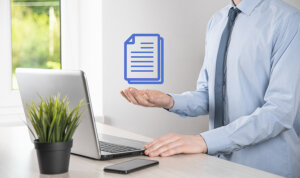 Are you familiar with Sage 100 document management? Paperless Office is a Sage 100 module that helps your business in its quest to become truly paperless. It's a document management system that enables you to turn electronic documents into PDFs, and then store and organize them with ease.
Among the many office productivity customizations available for Sage 100, Paperless Office remains one of the most popular with Sage users. It enables businesses to reduce paper documents, better manage essential documents, and save time. Here are several tips for using Sage 100 document management—Paperless Office.
Did You Know You Can Do This with Sage 100 Document Management?
To set up Sage 100 Paperless Office, follow these instructions from Sage. Be sure to set your printer and fax while setting up Sage 100 Paperless Office; you'll need it for full document management.
Once you've set up the system, explore the many options available to you. Did you know that you can …
Create electronic delivery and PDF options for the document types enabled in Paperless Office?
Set up standard reports, journals, and registers to print to PDF so you can share them electronically?
Build and use PDF forms such as invoices, statements, and sales orders?
Create payroll direct deposit stubs for employees?
Once these features are set in the system, you can then email reports, receipts, invoices, orders, and anything else you create in Sage 100 document management to vendors, customers, employees, and external parties.
New and Improved Paperless Office Features
As you can imagine, Sage 100 Paperless Office is one of the most popular productivity add-ons available. Because it's so popular, users frequently submit requests and ideas for improvement. Sage responds by releasing the ones that many people request. Here are several new and improved features recently released:
New default delivery options: These are now available through the setup menu. The new default delivery options allow users to specify default form selections when creating a new customer or vendor record. This way, you don't have to set up each document every time you want to share something electronically with a customer or vendor.
Electronic delivery log: Not sure if you've sent that report to your supervisor or a receipt to a customer? Simply click the electronic delivery log in the Customer, Vendor, Employee, or Journal and Register Views to see where and when the report was sent.
Electronic Delivery Submission List: This list provides you with a comprehensive list of all attempts to send a particular document.
New document send types: Sage used to limit the documents you could send to PDF files, but now you can also send Excel and Word files, among several file types.
"Cc" Salespeople: A new checkbox enables users to send forms to sales team members as well as to customers. This is a great tool when emailing customers with invoices or other items that salespeople want to know about.
Enhanced Productivity from Your Favorite ERP
Sage 100 Paperless Office really adds many time-saving features to an already great package. Combined with your favorite office productivity suite, the combination of Sage 100 ERP and Sage Document Management is a terrific time-saver. It will help you achieve your productivity and growth goals.
Emerald TC
Emerald TC provides software and consulting for manufacturing companies. We can help you choose the right accounting software, ERP system, payroll, or other software for your needs. Contact us or call 678-456-6919 for more information.